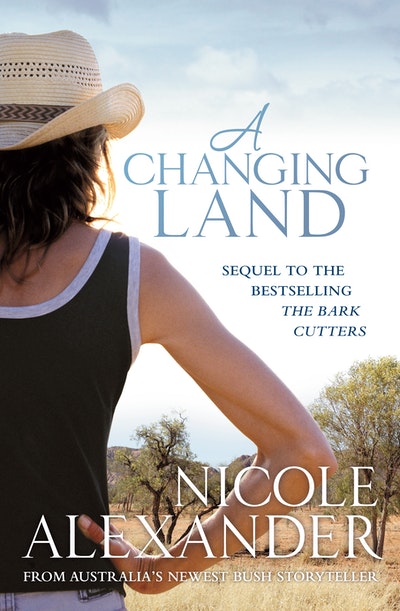 Published:

1 March 2011

ISBN:

9781741669435

Imprint:

Bantam Australia

Format:

Trade Paperback

Pages:

464

RRP:

$42.99
A Changing Land
---
---
---
Sequel to bestselling debut novel The Bark Cutters.
Past and present interweave in A Changing Land, the continuing legacy of the Gordon family. It's the early 19th Century and Hamish Gordon has a massive rural holding built on stock theft and is determined to ensure that his son and heir, Angus will inherit an enlarged property. Embarking on a final stage of land acquisition, a ruthless plan to buy out his neighbours, Hamish's actions nearly destroy Wangallon and have serious repercussions for generations to come.
Luke, Hamish's eldest surviving son from his first marriage is a wild man, at odds with civilised society. Deeply affected by the untimely deaths of his siblings and mother some thirty years earlier he feels deserted. His unrequited love for his young step-mother leads him to choose a life as Wangallon's Boss drover, an existence which keeps him away from the property most of the year. When Luke learns that his father has engineered events to keep him on the property he must choose between a chance at a new life and the protection of the only home he has ever known.
In 1989 two years after the death of family patriarch Angus Gordon, Sarah Gordon now runs Wangallon with the assistance of her fiancé, Anthony. Their relationship begins to deteriorate when a power struggle develops between them. Sarah's problems escalate with the arrival of her Scottish half-brother, Jim Macken who is intent on receiving the inheritance bequeathed to him by Angus Gordon. Unable to buy Jim out and with the possibility of losing one third of Wangallon, Sarah finds herself fighting the law, her half-brother and Anthony.
She has the same unescapable Gordon qualities that will ensure both and her Wangallon's survival but will it be at the expense of her happiness?
Published:

1 March 2011

ISBN:

9781741669435

Imprint:

Bantam Australia

Format:

Trade Paperback

Pages:

464

RRP:

$42.99
Praise for A Changing Land
'Past and present are woven through this engrossing Australian saga from new outback author Nicole Alexander.'
Australian Country Style Magazine
'I was lucky enough to see this debut fiction novel before it was published. An engrossing multi-generational saga set around Wangallon, the Gordon family homestead, this multi-layered story of romance, risk and family secrets by Nicole Alexander, 'Australia's Newest Bush Storyteller', is highly recommended.'
Sara Foster-Author of COME BACK TO ME (Random House 2010)
'A pacy read…rollicking family saga'
Weekly Times Now
'Alexander writes from first-hand experience of the harshness of bush life as well as a deep love of the land'
Courier Mail
'A must read'
The Outback Magazine
Praise for THE BARK CUTTERS
'A great saga that traces family history with a wealth of romance. '
Woman's Day
Doubleday Books
'A Life on the land in outback NSW has inspired first time author Nicole Alexander to write about the bush in THE BARK CUTTERS, which captures the lives of four generations of one family.'
Sunday Mail Brisbane
'Can't wait for "The Farmer Wants A Wife"? Get stuck into this Aussie saga spanning four generations. Four stars.'
NW Magazine
'With flashbacks to the 1850's. THE BARK CUTTERS explores the highs and lows of living on a generational family farm.'
'Spanning several generations, past and present are cleverly interwoven in this classic Australian tale'
The Weekly Times