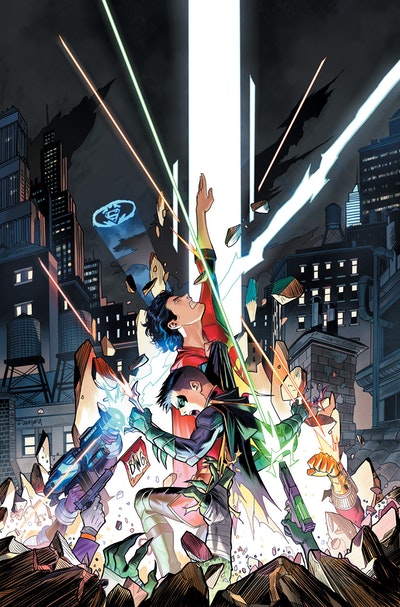 Published:

16 April 2019

ISBN:

9781401290580

Imprint:

DC Comics

Format:

Paperback

Pages:

144

RRP:

$35.00
Adventures Of The Super Sons Vol. 1 Action Detective
---
---
The Super Sons are back! Damian Wayne and Jon Kent take to the past this time to reveal a secret adventure where Superboy and Robin find themselves targets of an interstellar team of young badasses called the Gang!
Their dads are Batman and Superman--and now Robin and Superboy are back in the family business as the adventures of the world's greatest super-tweens continue!
Long before recent events turned their lives upside down, Damian Wayne and Jonathan Kent joined forces to take on a threat like they'd never faced before. Led by Rex Luthor and Joker Jr., these intergalactic scions of destruction call themselves simply the Gang. And they'll stop at nothing to stamp out the Super Sons' crime-fighting careers in this or any other reality!
Soon Superboy and Robin find themselves on a mad quest throughout the Multiverse, with each stop stranger than the last. On every world they visit, deadly new foes and arcane new allies await--including, perhaps, their own future selves. And wherever they go, the Gang is right behind them, ready to take them out the moment they slip up.
The stage is set. The chase is on. And the biggest adventure ever to face Superman's and Batman's boys is about to begin...
Acclaimed writer Peter J. Tomasi (Superman) joins artists including Carlo Barberi (Deadpool), Art Thibert (Trinity) and Matt Santorelli (Superwoman) to launch a legendary new chapter in the saga of comics' greatest young team-up in Adventures of the Super Sons Vol. 1: Action Detectives! Collects Adventures of the Super Sons #1-6.
Published:

16 April 2019

ISBN:

9781401290580

Imprint:

DC Comics

Format:

Paperback

Pages:

144

RRP:

$35.00