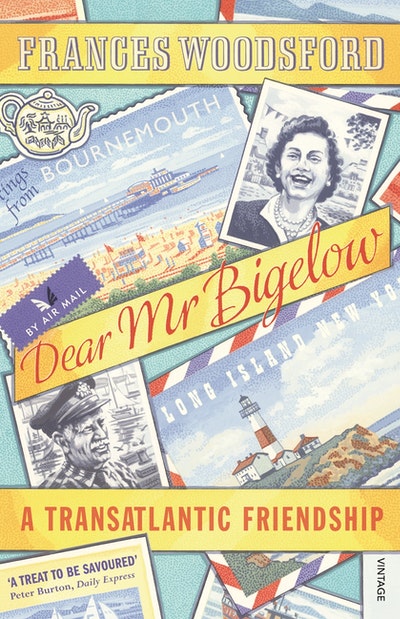 Published:

15 July 2010

ISBN:

9780099542292

Imprint:

Vintage

Format:

Paperback

Pages:

400

RRP:

$29.99
Dear Mr Bigelow
A Transatlantic Friendship
---
---
---
Charming and nostalgic, this recently discovered collection of letters – from a Bournemouth secretary to an American millionaire – is set to become a perennial favourite
Dear Mr Bigelow is an enchanting collection of weekly 'pen-pal' letters written over a twelve-year period (1949 to 1961) from an unmarried woman working in the Public Baths Department of Bournemouth Town Council to a wealthy American widower, Commodore Bigelow, living on Long Island, New York. They never met, and there was no romance – she was in her forties when he died aged ninety-eight – yet their epistolary friendship was her lifeline.
The 'Saturday Specials' as Frances dubbed them, are brilliantly-packed missives from austerity Britain: nuggets of social history elegantly interspersed with comic interludes from her own life. We follow her travails at the Baths (and her dreadful boss Mr Bond); weekly Civil Defence Classes as the Cold War advances; her attempts to learn to drive and the escapades with her first car Hesperus; and meet many Bournemouth regulars, including Mac, Frances's ne'er-do-well (but much-loved) brother and Rosalind, Mr Bigelow's daughter who visits for holidays in the English drizzle.
Most importantly we get to know Frances – and her deep affection for her Commodore pen-pal. Her letters to Mr Bigelow during his final illness offer a moving farewell, written in an era when people knew how to express their feelings with an elegance, wit and charm free from cliche and sentimentality.
Published:

15 July 2010

ISBN:

9780099542292

Imprint:

Vintage

Format:

Paperback

Pages:

400

RRP:

$29.99
Praise for Dear Mr Bigelow
Many pleasing and interesting small touches...

David Kynaston, Literary Review
Packed with comic moments and social history, the letters are a beady commentary on her life and times

Fanny Blake, Woman & Home
A treat to be savoured

Peter Burton, Daily Express
Provide an insight into post-war Britain

Telegraph
This delightful collection of letters...a sequence of bright, witty and charming letters

Mail on Sunday
Anyone wanting to remember or discover the details of life in the Fifties, those dreary but cosy post-war years, should read this extraordinary book.

Susan Hill, The Lady