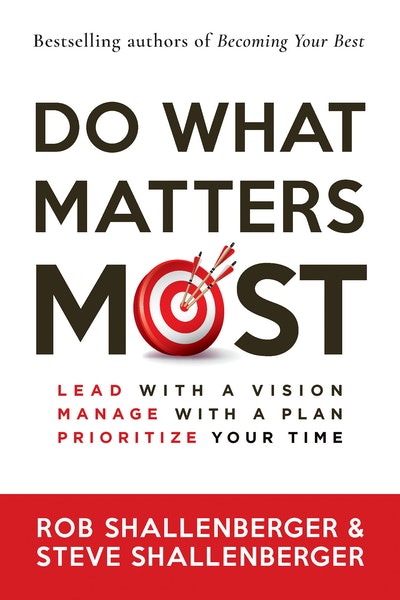 Published:

3 August 2021

ISBN:

9781523092574

Imprint:

Berrett-Koehler

Format:

Paperback

Pages:

192

RRP:

$37.00
Do What Matters Most
Lead with a Vision, Manage with a Plan, Prioritize Your Time
---
---
Time management remains a huge challenge for most people--this book shares the principles and process used by top leaders worldwide to minimize distractions and maximize accomplishments.
In working with more than 724 managers and leaders from more than 50 different organizations, Steven and Robert Shallenberger were shocked to discover that although 68% of them feel like their number one challenge is time management, 80% don't have a clear process. Despite so many books, seminars, and workshops on time management, there is still a huge need.
Drawing on 40 years of leadership research, Steven and Robert Shallenberger offer three simple principles that the top ten percent of leaders use to "do what matters most." They found that successful executives: Lead with a Vision, Manage with a Plan, and Prioritize their Time. Implementing these simple and easy-to-understand principles, supported by tools like their Personal Productivity Assessment and Pre-Week Planning process, you will learn how to live a life by design, not by default. You'll feel the power that comes with a sense of control, direction and purpose.
Published:

3 August 2021

ISBN:

9781523092574

Imprint:

Berrett-Koehler

Format:

Paperback

Pages:

192

RRP:

$37.00