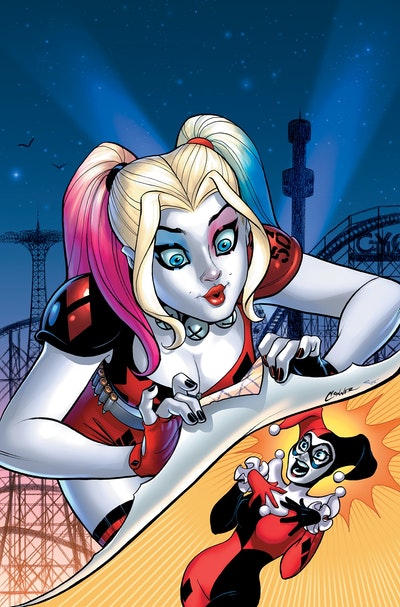 Published:

10 July 2018

ISBN:

9781401280659

Imprint:

DC Comics

Format:

Hardback

Pages:

384

RRP:

$65.00
Harley Quinn The Rebirth Deluxe Edition Book 2
---
---
Volumes 3 and 4 of HARLEY QUINN REBIRTH are collected here in hardcover for the first time!
Just how did a gentle, "reformed" Joker come to arrive at Harley's doorstep when everyone believed him dead and gone? The answer's here--and it'll shock you! Meanwhile, Harley goes up against New York's corrupt mayor when she learns about his plans for the city's homeless population.
The genius creative team of Jimmy Palmiotti and Amanda Conner spearhead Harley's return in the wake of DC Universe Rebirth, featuring art from Chad Hardin and John Timms. This new hardcover edition features a backup origin story set in Harley's early days with The Joker, co-written by Harley Quinn's creator, Paul Dini!
Collects HARLEY QUINN #14-27 and HARLEY 25th ANNIVERSARY SPECIAL.
Published:

10 July 2018

ISBN:

9781401280659

Imprint:

DC Comics

Format:

Hardback

Pages:

384

RRP:

$65.00
Praise for Harley Quinn The Rebirth Deluxe Edition Book 2
"We are treated to page after page of incredible interpretations of Harley and her wacky sense of adventure and violence." --COMIC VINE  "Amanda Conner and Jimmy Palmiotti did backflips through a minefield and stuck the landing." --COMICOSITY  "[Harley Quinn's] a complex character, and now, with Conner, Palmiotti, and Hardin at the reins, she's being given the treatment she's long since deserved." --IGN