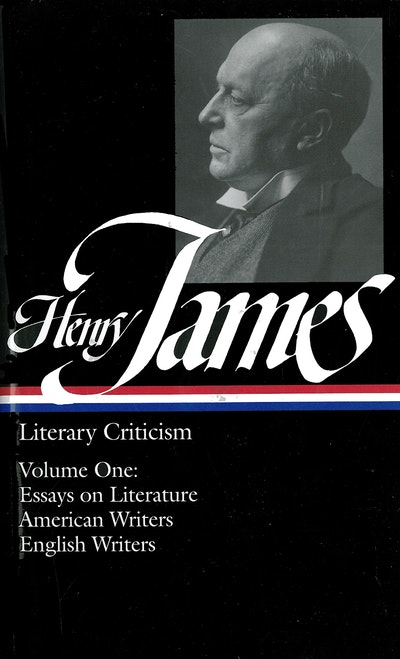 Published:

1 December 1984

ISBN:

9780940450226

Imprint:

Library of America

Format:

Hardback

Pages:

1504
Henry James
---
---
---
Henry James, renowned as one of the world's great novelists, was also one of the most illuminating, audacious, and masterly critics of modern times. This Library of America volume and its companion are a fitting testimony to his unprecedented achievement. They offer the only comprehensive collection of his critical writings ever assembled, more than one-third of which have never appeared in book form.
This first volume focuses especially on his responses to American and English writers; the second volume contains his essays on European literature and the Prefaces to the New York Edition of his fiction.
From 1864 until virtually the end of his life, James displayed an astonishing range and catholicity of critical interests, touching on nearly every facet of literature in America, England, and Europe. Here are his most important theoretical essays, including his witty and daring declarations of the novelist's freedom in "The Art of Fiction," "The Future of the Novel," and "The Science of Criticism"—a gently ironic title from a writer who regarded criticism as a form of art.
Appreciations of Ralph Waldo Emerson ("I knew he was great, greater than any of our friends"), pungent comments (which he later regretted) on Walt Whitman's "Drum-Taps," and assessments of Louisa May Alcott, Edgar Allan Poe, his friend and admirer William Dean Howells, Harriet Beecher Stowe, Francis Parkman, and scores of other American writers are joined, in revealing proximity, to commentaries on nearly every important English writer of fiction (and some poets, such as the Brownings) during the late nineteenth and early twentieth centuries.
These reviews of English writers include James's stunning essay on Charles Dickens's Our Mutual Friend, his provocative discussions of George Eliot, and his tough but appreciative estimates of Anthony Trollope, Matthew Arnold, Benjamin Disraeli, Elizabeth Gaskell, Rudyard Kipling, Thomas Hardy, William Morris, Rupert Brooke, Ouida, Algernon Charles Swinburne, and Robert Louis Stevenson. Also included here is his great essay on Shakespeare's The Tempest. All of these pieces are gathered under the author considered, so that James's supple changes in attitude can be followed across the years.
Of particular interest, both critically and biographically, are James's commentaries on Nathaniel Hawthorne, including his still-controversial book-length study of 1879. His estimates of his predecessor's work remain highly debatable, but are perhaps more interesting as evidence of his own feelings about being an American writer of a later and, as he assumed, more complex time.
Finally, this volume includes two invaluable collections: his "American Letters" and "London Notes," wherein, with unsurpassed tact and grandeur of mind, he introduces readers of his native and of his adopted country to each other.
LIBRARY OF AMERICA is an independent nonprofit cultural organization founded in 1979 to preserve our nation's literary heritage by publishing, and keeping permanently in print, America's best and most significant writing. The Library of America series includes more than 300 volumes to date, authoritative editions that average 1,000 pages in length, feature cloth covers, sewn bindings, and ribbon markers, and are printed on premium acid-free paper that will last for centuries.
Published:

1 December 1984

ISBN:

9780940450226

Imprint:

Library of America

Format:

Hardback

Pages:

1504