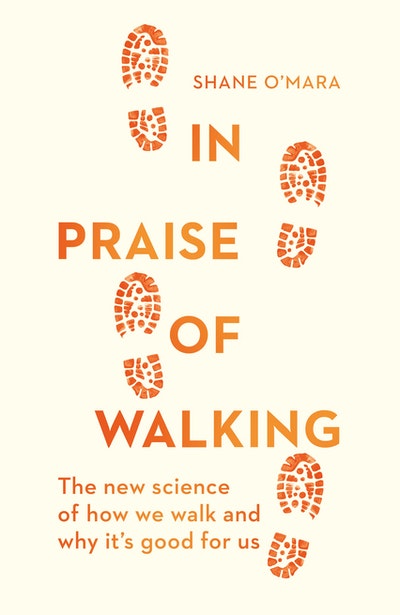 Published:

1 August 2019

ISBN:

9781847925909

Imprint:

Bodley Head

Format:

Trade Paperback

Pages:

224

RRP:

$40.00
In Praise of Walking
The new science of how we walk and why it's good for us
---
---
---
A captivating exploration of the science of a skill that is uniquely human: how we walk. And a hymn to its many benefits for our mental and physical health, and for our society.
'INFORMATIVE AND PERSUASIVE ENOUGH TO ROUSE THE MOST ARDENT COUCH POTATO' (NEW STATESMAN)IRISH TIMES TOP TEN BESTSELLERWalking upright on two feet is a uniquely human skill. It defines us as a species.
It enabled us to walk out of Africa and to spread as far as Alaska and Australia. It freed our hands and freed our minds. We put one foot in front of the other without thinking – yet how many of us know how we do that, or appreciate the advantages it gives us? In this hymn to walking, neuroscientist Shane O'Mara invites us to marvel at the benefits it confers on our bodies and minds.
In Praise of Walking celebrates this miraculous ability. Incredibly, it is a skill that has its evolutionary origins millions of years ago, under the sea. And the latest research is only now revealing how the brain and nervous system performs the mechanical magic of balancing, navigating a crowded city, or running our inner GPS system.
Walking is good for our muscles and posture; it helps to protect and repair organs, and can slow or turn back the ageing of our brains. With our minds in motion we think more creatively, our mood improves and stress levels fall. Walking together to achieve a shared purpose is also a social glue that has contributed to our survival as a species.
As our lives become increasingly sedentary, we risk all this. We must start walking again, whether it's up a mountain, down to the park, or simply to school and work. We, and our societies, will be better for it.Sunday Independent Book of the Week AGreatRead and ArgosyBooks BOOK OF THE MONTH
Published:

1 August 2019

ISBN:

9781847925909

Imprint:

Bodley Head

Format:

Trade Paperback

Pages:

224

RRP:

$40.00
Praise for In Praise of Walking
Fascinating ... O'Mara argues [walking] is intimately connected to our bodies, our brains, and ultimately how we exist as a species

The Times
Convincing and compelling ... In Praise of Walking is peppered with insights about everything from 19th-century poets and flâneurs to modern-day experiments with subjects playing video games in fMRI scanners

Sunday Times
Walking makes us healthier, happier and brainier ... [O'Mara] knows this not only through personal experience, but from cold, hard data

Observer
Full of insights… an accessible and thought-provoking discussion of walking as a key to human success

Gina Rippon, author of The Gendered Brain, Gina Rippon, author of The Gendered Brain
A fascinating new book that examines the multitudinous benefits of this form of locomotion

Harper's Bazaar
In Praise of Walking is both informative and persuasive enough to rouse the most ardent couch potato – perhaps saving humanity before our lifestyle consumes our brains completely

Jonathon Keats, New Scientist
Like a poem to walking… [and] the science that might help convince planners to prioritise walking as a means of getting around

Lucy Whetman, UK Press Syndication
A book that will leave you itching to go out for a good old-fashioned stroll

Mail on Sunday
[In Praise of Walking] it provides an antidote to the many miseries that can accumulate because of our modern, sedentary lifestyle

Simple Things
Forget apples. A walk a day really will keep the doctor away

Evening Standard
Whether you're an avid hiker or simply like to get out and do the school run on foot, this book will make you appreciate the physical, mental and societal benefits of getting outdoors on two feet.

Liz Connor, UK Press Syndication
An informative yet witty book on the importance of walking for our health and wellbeing, and for societies in general

Liz Nice, Eastern Daily Press
Compelling… A new angle on our favourite pastime

Walk Magazine
A fascinating read… This informative book…will rouse you from the sofa and make you want to get moving

Eastern Daily Press, *Book of the Week*