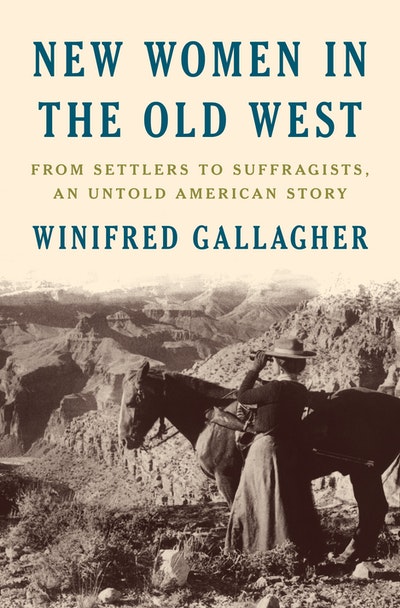 Published:

28 September 2021

ISBN:

9780735223257

Imprint:

Penguin Press

Format:

Hardback

Pages:

304

RRP:

$50.00
New Women in the Old West
From Settlers to Suffragists, an Untold American Story
---
---
A riveting history of the American West told for the first time through the pioneering women who used the challenges of migration and settlement as opportunities to advocate for their rights, and transformed the country in the process
Between 1840 and 1910, over half a million men and women traveled deep into the underdeveloped American West, the vast lands that extended from the Great Plains to the Pacific Ocean. Survival in this uncharted region required two hard-working partners, compelling women to take on equal responsibilities to men, proving to themselves - and their husbands - that they were capable of far more than society maintained. Back East, women were citizens in name only. Unable to vote, own property, or file for divorce, women were kept separate from the dynamic male world outside the home. But the women of the west rightly saw themselves as patriotic pioneers, vital contributors to westward expansion.
By the mid-nineteenth century the fight for women's suffrage was radical but hardly new, until the women of the west changed the course. Armed with the ethos of "manifest domesticity," they established and managed schools, churches, and philanthropies; they ran for office, first for the school board but soon for local legislature. Wielding their authority in public life for political gains, they successfully fought for the right to earn income, purchase property, and, especially, vote. In 1869, partly to lure more women past the Rocky Mountains, Wyoming gave women the vote. Utah, Colorado, and Idaho soon followed, and long before the Nineteenth Amendment of 1919 did so across the country, nearly every western state or territory had enfranchised women.
In New Women in the Old West, Winifred Gallagher brings to life the little known and under-reported women who played monumental roles in one of the most vibrant and transformative periods in the history of the United States. Alongside their victories, Gallagher explores the women who were less privileged by race and class, the Native American, Hispanic, African-American, and Asian women, yet joined the fight for universal equality. Drawing on an extraordinary collection of research, including personal letters and diaries, Gallagher weaves together the striking achievements of those who not only created homes on weather-wracked prairies and built communities in muddy mining camps, but played a crucial, unrecognized role in the women's rights movement, and forever redefined the "American woman."
Published:

28 September 2021

ISBN:

9780735223257

Imprint:

Penguin Press

Format:

Hardback

Pages:

304

RRP:

$50.00