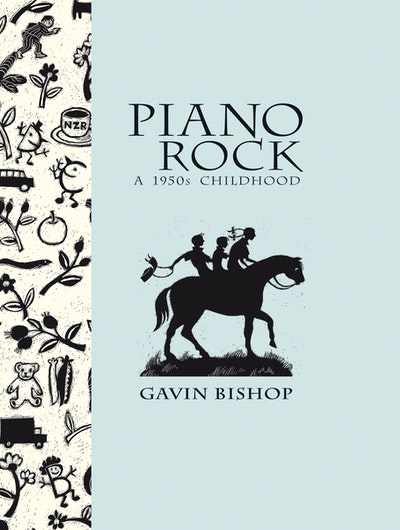 Published:

10 October 2008

ISBN:

9781869790103

Imprint:

RHNZ Children's

Format:

Hardback

Pages:

120

RRP:

$36.00
Piano Rock
A 1950s Childhood
---
---
Gavin Bishop's award-winning memoir about his childhood years spent in a tiny town in Central Otago, New Zealand. Gorgeous illustrations and retro design make this a precious gift book as well as a much-loved tale about life in the 1950s.
This charming book is a memoir of Gavin Bishop's idyllic childhood days, growing up in Kingston beside gorgeous Lake Wakatipu. It's a gentle tale of a boyhood spent haring around outside, building huts, eating girdle scones, catching eels, watching the train, eating roast mutton, going to school on a horse, arguing with your best mate, eating Marmite sandwiches, Guy Fawkes Day – and lots more eating.
It's an elegantly written story but it's the illustrations that are the real star of this book. Using two different techniques, Gavin has created both colour and black and white illustrations that bring the story to life and give a great sense of nostalgia.
A handy glossary explains things like Box Brownie, Tilly Lamp, The Coronation, mutton birds, Melting Moments and Brylcreem.
Published:

10 October 2008

ISBN:

9781869790103

Imprint:

RHNZ Children's

Format:

Hardback

Pages:

120

RRP:

$36.00
This gem of a book captures five years spent in the railway town of Kingston. Tiny details embroider this record of a simpler time - roast mutton and girdle scones, a royal visit, Guy Fawkes night and the smells associated with a new baby are all faithfully recorded.

Ann Packer, The Press
Piano Rock is a little package of pleasure - for its intended audience but also for baby-boomers, especially those who grew up in rural New Zealand.

Anna Rogers, NZ Books
Gavin has again been handsomely served by his publisher. Hard cover, quality paper and a classy design all combine to showcase the elegiac text and abundant illustrations, both in black and white and colour.

Tessa Duder, Australian Women's Weekly
...an absolute gem.

Graham Beattie, Beattie's Book Blog
It was the cover which drew me to the book. The story delivers a well paced recount of Gavin's years in Kingston touching on events that helped shape him between the ages of 4 - 8. It is beautifully illustrated as to be expected. The story warmed me as I read . . . how similar the everyday events seem to my own parents childhood in the 50s. . . [An] easy read for most children over 8 years with short chapters allowing children to pick it up for a moment, while others could read it in one sitting. The addition of a glossary is a great feature for those with a limited knowledge of 1950s New Zealand. I really enjoyed this and plan now to read it to my daughter.

Shirley, Good Reads
I loved this little Book. Gavin Bishop has evoked this little town in 50's NZ and with it his warm country childhood, with such clarity. Although I'm a 60's child, much - like Fielders Sponge Cake flour is full of memories. The subtle illustrations do just what they should - support, without detracting or taking over. Lovely.

Adele, Good Reads
Really enjoyed this. Gives a great insight to NZ life in the 1950s.

Margaret, Good Reads
PANZ Book Design Awards
Winner • 2009 • Scholastic New Zealand Award for Best Children's Book
Storylines Notable Non-fiction Award
Awarded • 2009 • Storylines Notable Non-fiction