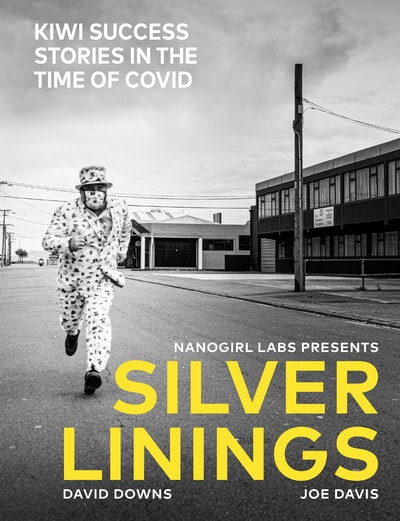 Published:

2 March 2021

ISBN:

9780143775478

Imprint:

Penguin

Format:

Paperback

Pages:

272

RRP:

$45.00
Silver Linings
Kiwi Success Stories in the Time of Covid
Extract
METHOD DIGITAL
Virtual Easter eggs
Auckland-based Method Digital is a digital-led creative agency. Founded in 2003, this multidisciplinary, versatile team is well known for major augmented reality (AR) and virtual reality (VR) projects — games, digital art installations, and rich storytelling using the latest in technology. The year 2020 was to see them focusingon international expansion, pitching for major projects overseas, and driving growth in their business with those projects' budgets, which are typically much larger than those seen in New Zealand. The Covid pandemic,and New Zealand's early lockdown, changed those plans. Rather thanjust sit tight, though, the team focused on what they could do to help their community, and created some digital magic for families in lockdown over Easter.
'International markets were going to be a really big push for us this year, but the trip to LA I had planned for 16 March obviously didn't happen!' says managing director Sam Ramlu.
And Sam and the team were to be staying at home in more than one way, with lockdown meaning no more office-time. For many companies, the transition to working from home was a real challenge. However, the on-screen nature of Method's work — and the systems and processes embedded into their workflows already — made that transition fairly painless. 'We made the call a week before lockdown to send the team home. The move itself was fairly straightforward for us — it's hard for our creative work, of course, when we can't get together, but we already have the communications tools, the filing systems and the processes to make the move.
'That enabled us to focus on what comes naturally to us: a real care for our people. You'd go for a walk in the neighbourhood and it felt like being in the middle of an apocalypse, like a blanket of depression over New Zealand. So immediately that week, while everyone else was scrambling, we were able to start thinking: "How can we make this a bit better for people? What can we do as a team that might help?" We started with our "work whānau"— making sure that we were checking in with one another. Once that was set, we setup an ideas board, and started thinking about how we could put our skills to use helping others.'
The team quickly recognised that many businesses around New Zealand were struggling to make the transition to working from home, realising that the tools and practices so familiar within Method were foreign to many businesses. 'We started creating Work from Home Guides — really visual, easy-to understand content, sharing what we knew about the tools and how best to use them. Those went really well, but we wanted to do something more.'
With Easter fast approaching, the prime minister had recently declared the Easter Bunny an official 'essential worker', so Kiwi kids could relax in the knowledge that the long-eared egg deliverer was still on the job, although maybe running a little late. Reassured that Easter was still a goer under lockdown, the Method team hit on a concept (hatched the idea?) that just might take some of the pressure off the overworked delivery bunny: an Easter egg hunt for families that could run indoors, using the power of augmented reality to create a genuinely fun and engaging experience for people stuck in their houses.
The team set to work, and in just seven days the experience was launched, in plenty of time for Easter. It was incredibly well received: thousands of children across New Zealand were drawing and colouring in Easter eggs, scanning them using their parents' phones, and embarking on Method's augmented reality quest, all around their own home. On social media, parallels were drawn between this and the teddy bears appearing in windows across the country.
Method had enabled families to come together and find joy, using their creativity, technical capability and experience to create a really eggseptional eggs-perience.
The families using the app weren't the only ones to benefit; the project had a significant impact on Method's own team members, too. 'Working on this project brought everyone closer together. Everyone was on board —everyone had their part to play, and they were all just really engaged in making this crazy idea come to life, and to try to bring some fun into people's lives,' says Sam. 'People loved it — and I think within the company it really helped us all to have a sense of purpose.'
Reflecting on the journey as an entrepreneur, the challenges of Covid— the conversations happening across New Zealand around economic uncertainty, and the challenges that come with not knowing month-to-month what's going to happen —highlighted for Sam what she sees as some of the realities of life as a business owner, and particularly as a couple in business together.
As parents working together, I think the hardest thing through Covid was trying to get work and family in balance. Balancing the wellbeing of our staff —people who depend on us — with the wellbeing of our young son, and making sure he's not spending his whole life in front of a screen while we work.
'Beyond that, watching the news —the things people were talking about, the uncertainty, the volatility — I was like "That's already our life". It gave mea real perspective. Being in business is hard; we're always thinking about that uncertainty, and I think that's the life of a business owner. It's not the same for our team: I do what I do to give them a normal working life, but that's part of life as business owners. I think we need to understand that maintaining that level of uncertainty and volatility is not okay in the long term — and I think it'll drive us to make some changes in the way we work at Method. In the long run, I think that will be a positive for us.'
---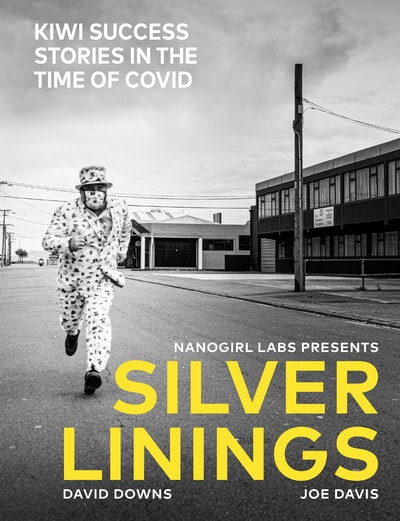 Stories of business innovation and profoundly human triumph in the face of adversity.
Buy now
Buy now
---