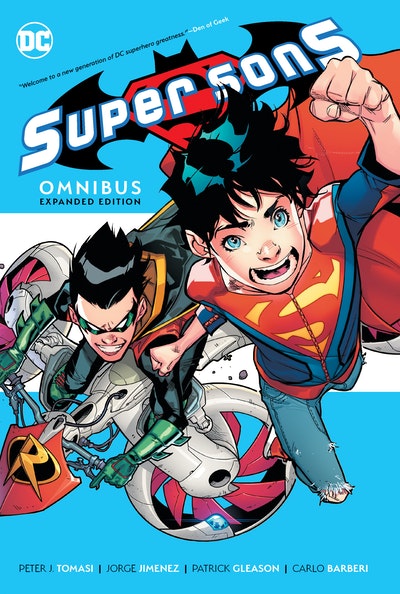 Published:

10 February 2021

ISBN:

9781779506665

Imprint:

DC Comics

Format:

Hardback

Pages:

888

RRP:

$190.00
Super Sons Omnibus Expanded Edition
---
---
The Super Sons are back! Superboy and Robin, otherwise known as Jon Kent and Damian Wayne, continue their epic adventures in the Super Sons Omnibus Expanded Edition!
The greatest superheroes of today's world, Superman and Batman, are the picture of greatness! Their sons, Superboy and Robin, are following in their fathers' footsteps and training to become the heroes of tomorrow!
The Batman of Tomorrow returns to the present, revealing the dark destiny of Superboy and vowing to prevent the cataclysmic disaster that he would cause. And when the Supersons go on the run, the Batman of Tomorrow recruits the Teen Titans of Tomorrow to help him. Superboy's life hangs in the balance, will Superman, Robin, and others be able to keep him safe from the Batman of Tomorrow?
AND THERE'S MORE! The Super Sons lost and secret adventures are also tied into this omnibus collection! Taking readers on an epic tale that transcends current events, as Superboy and Robin find themselves targets of an interstellar team of young badasses called the Gang. Lost in space and time--having barely escaped the Gang--Superboy and Robin will have to go through the Planet of Mystery, an intergalatic juvenile detention facility, and a lawless planet that lives like the wild wild west, in order to get home again! But will the Gang be able to play planetary smash-and-grab with Earth before the Super Sons can get back?
Collects Superman #10-11, Superman #37-38, Teen Titans #15, Super Sons #1-16, DC Rebirth Holiday Special #1, Super Sons Annual #1, Super Sons/Dynomutt Special #3, and Adventures of the Super Sons #1-12
Published:

10 February 2021

ISBN:

9781779506665

Imprint:

DC Comics

Format:

Hardback

Pages:

888

RRP:

$190.00