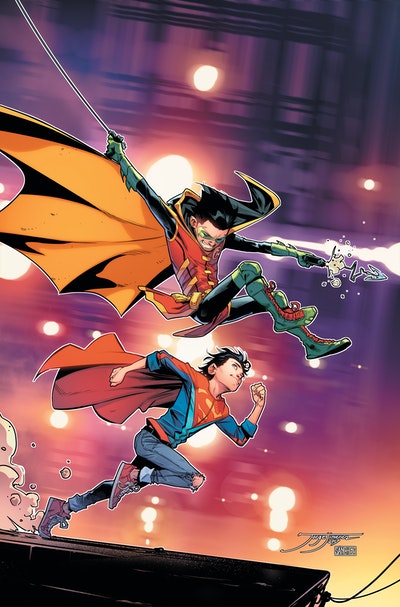 Published:

2 October 2018

ISBN:

9781401284466

Imprint:

DC Comics

Format:

Trade Paperback

Pages:

136

RRP:

$30.00
Super Sons Vol. 3 Parent Trap
---
---
As the world's deadliest mom forces Robin to make the ultimate choice between his past and future, Superboy finds himself caught in middle in this volume of Super Sons!
The sons of Batman and Superman, Robin and Superboy, are used to stepping--or flying--out of their parents' shadows. But while Jonathan Kent was brought up by kindhearted Clark Kent and the brilliant journalist Lois Lane, Damian Wayne's parental supervision has a sinister edge.
Sure, he's been trained in the ways of crime-fighting by his Dark Knight dad, Bruce Wayne. But before he was Batman's son-slash-sidekick, he was raised to rule the world by the League of Assassins and its killer queen, his mother--the Daughter of the Demon herself, Talia al Ghul.
Now Talia has returned to reclaim her son for the shadows, and not even the tumultuous team-up of the Super Sons may be enough to stop it. Because with the secrets of Robin's dark past--and murderous methods--out in the light for the first time, Superboy may decide his friend really is an enemy after all.
The stage is set for a final showdown between Damian and...well, that's the question. Will he join forces with his mom to take Superboy down for good, or will the Super Sons stick together, live fast and fly young?
Find out in Super Sons Vol. 3: Parent Trap. Featuring the art of Carlo Barberi and Paul Pelletier, it's the final chapter in Peter J. Tomasi's saga of the World's Smallest Super Heroes--setting up the next stage in their incredible crime-fighting careers! Collects Super Sons #13-16 and Annual #1.
Published:

2 October 2018

ISBN:

9781401284466

Imprint:

DC Comics

Format:

Trade Paperback

Pages:

136

RRP:

$30.00