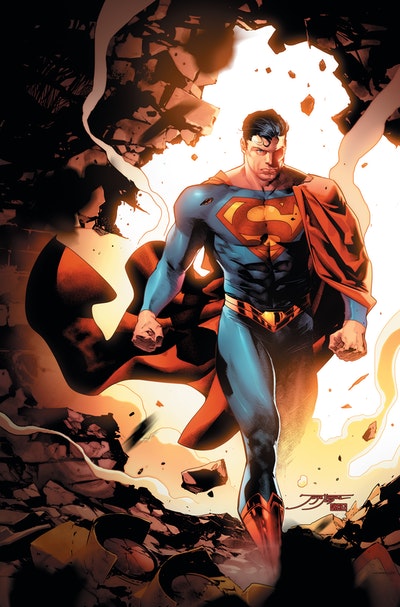 Published:

1 January 2019

ISBN:

9781401284510

Imprint:

DC Comics

Format:

Hardback

Pages:

240

RRP:

$65.00
Superman The Rebirth Deluxe Edition Book 3
---
---
The next set of adventures from Peter J. Tomasi and Patrick Gleason's Superman are collected here in hardcover for the first time ever.
What does Superman fear? Traveling across America and amongst the stars, Superman is challenged to explore his hopes and fears in this series of stories, collected in hardcover for the first time.
A family vacation allows Clark Kent and Lois Lane to show their son Jonathan the sacrifices that went into forging the United States of America. Investigating the whereabouts of missing children brings Superman into conflict with the living essence of fear--Parallax. To save the children, he sacrifices himself, letting fear enter his soul, which attracts the attention of Sinestro and the Weaponers of Qward. It may be that the renegade Green Lantern is the Man of Steel's only hope.
When Lois Lane attempts to interview the potently powered mercenary Deathstroke, she gets caught up in one of his escapades, which also ensnares Superman. Then, Superman and Jon try to save an entire race on a dying alien world that sees the pair as a threat to their faith. Their belief is so powerful, it weakens the heroes and may cause them to die along with the planet!
This action-packed, thought-provoking assortment of stories is headlined by the creative team of Peter J. Tomasi (Nightwing, Green Lantern) and Patrick Gleason (Green Lantern Corps, Batman and Robin). Joining them in this exploration of heroism and idealism are writers James Robinson, James Bonny and Keith Champagne, as well as artists Doug Mahnke, Ed Benes, Scott Godlewski and Tyler Kirkham. Collects Superman #27-36.
Published:

1 January 2019

ISBN:

9781401284510

Imprint:

DC Comics

Format:

Hardback

Pages:

240

RRP:

$65.00