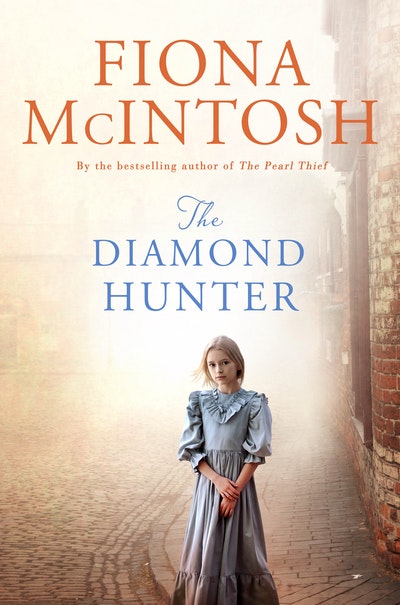 Published:

15 April 2020

ISBN:

9781760895754

Imprint:

Penguin

Format:

Paperback

Pages:

432

RRP:

$26.00
The Diamond Hunter
Extract
PROLOGUE
VAAL RIVER, CAPE COLONY, SOUTHERN AFRICA
September 1871
The air sagged beneath the burden of the day's heat and the African sun felt as pitiless as her mother's gaze upon meeting the man Louisa had chosen to marry.
Louisa Knight understood now that Death had turned its lens on her. She considered it a personal triumph that neither anger nor despair bloomed in her mind at the realisation that she would not recover from this latest bout of fever. It was a killer of many, so why should she be spared?
What Louisa did feel, as she contemplated her own end, was regret for all that she must now leave behind. It wouldn't be long, she grasped, for even as her thoughts finally found clarity as she emerged from the fever that had recently rattled her teeth like dice in a fist, she knew that, in sharp contrast, her body was slumping towards surrender.
Louisa would take her final breath and the two people closest to her wouldn't know that she had slipped away. Somehow that felt easier. She didn't want to see any more guilt in her husband's hooded eyes, or fear in her child's. Instead she allowed the regrets to line up before her. The most important stared back with a wistful smile: she wished she could have lived to see her daughter grow up to fulfil all her early promise. Clementine's language was advanced, her instincts – particularly her empathy – were already well developed, and her thoughts were, at times, so complex Louisa worried for her. I hope my daughter wants more for her life than just becoming a dutiful wife, she thought.
How ironic. She had not only settled for marriage as her life's sole achievement but she had outraged her family by falling for someone without pedigree or wealth. Despite her wry thought, no amusement could reach her lips; control over her body had already been ceded. Just a little longer, she begged, so she could arrange her thoughts fully and leave this life with a tidy mind.
Yes, she had married a poor man. Leaving him behind was her second regret. In their seven years together, she had known only love with James. Their passion for each other had burned bright, like magnesium. It was so strong it blinded them, obscuring everyone and everything around them in shadow.
She had chosen him instinctively, knowing it would cost her at some point, and the debt was going to be paid sooner than she'd imagined. What a pity. But if she looked at her twenty-seven years, she had never been without love. Her parents lavished her with affection, her half-brother adored her – and she, him – and then her love, James . . . well, he simply worshipped her. On the surface they were mismatched – she could hardly deny it – but in truth they were a perfect fit, finding each other addictive.
Poor, darling James. His boundless desire to impress upon her family that poverty should not define him had guided his capricious decisions. One of those unpredictable choices would now kill her. There was no way out of this.
She turned to her third regret: beloved Reggie. She had never thought of him as a half-sibling. He was her big brother and she loved him unreservedly. She could imagine him in England at this moment, all but shaking a fist at her for being gullible, for being a stupid romantic fool. 'What about your family? What about your life here in England? Woodingdene is yours – it will never be mine; we should be running it together. And if you won't think of yourself, then how about considering Clementine in your foolhardy adventure? My niece is every inch a Grant.'
She couldn't deny it. Their daughter behaved more like his child than James's. She was serious, driven, not at all unreliable. Even now at six she was dependable in her moods, her ways, her promises. And yet the little girl adored her father as much as Louisa did. James could make their serious child laugh in the tightest of situations, and Clementine would have to rely on that now because the grimmest of circumstances was not far off. The youngster's emerging character was about to be tested in the toughest of ways. She hoped her husband would no longer call home this tent in which she now lay prone, but instead would decide to cut his losses and return to England.
What had life come to? Now she ate, slept and made love under canvas. Her family would be appalled. She hoped they would never discover her way of life in Africa. They may reimburse James for the headstone she'd already ordered. He would discover it was ready, waiting for him to tell the undertaker the words he wanted hammered into the stone. Nothing grand. James would keep it simple, but his grief would be hard, complex. A month ago she'd written him a letter, after emerging from her second bout of fever, and then hid it for him to find at the right time. She'd felt she needed to warn him against being selfish in his grief . . . to remember the child in his life. She'd written that letter knowing she would never leave Africa or see the soft, misted greens of the vale at Woodingdene again. This new and surely fatal fever had arrived, cruelly early, in the dark hours prior to dawn, after James had departed to be one of the first at the riverside to dig for his precious diamonds.
She turned inwards again, to contemplate her final regret. Too tiny to matter to anyone else, yet the pain of this loss hurt the most. The baby growing within her had never had a chance, despite her best hopes to live out the year. She hadn't told James that he was to be a father again; the right moment hadn't arisen since they'd alighted from the ship at Cape Town because she'd needed to be sure. She had sickened throughout the voyage from England but had presumed it was simply a lack of sea legs. Unfortunately, her health had taken a darker turn. Her precious boy – she was sure it was a son – would accompany her to the grave. The Little Karoo – this African desert – would take her and her son into its secret, silent depths and keep them until their parched bones became part of its limitless dust. James had never understood why she didn't want him to reach for her in the humble cot they shared. He'd wrongly interpreted her resistance as despair – a sort of punishment for the misery he'd brought her. The truth was she had needed every ounce of strength for the baby, but now it was too late for him. James did not need the torture of knowing that she had taken his child with her.
Louisa pushed that darkness aside and considered the events that had collided to deliver her into the Cape Colony. This whole sorry mess had come down to weather. How thoroughly British, she thought with no amusement.
Their ship had foundered around the Cape of Good Hope. They'd been advised in London that the P&O ships were now sailing via the Suez Canal, which had opened almost two years previously, but James, refusing to accept any help from her private funds, had paid for what he could afford. The Shaw, Savill and Co ships still braved the route around the frightening Cape and braced for the roaring forties, which would speed them to the other side of the world and that great continent of Australia.
His determination and pride had impressed her, turning down what her money could so easily have bought for them. It had all sounded like such a grand adventure back home in Northumberland. Nothing could hurt her at Woodingdene Estate. She'd grown up among servants and wealth, indulged by all. In the back of her mind had always been the obligation to make a good marriage – to continue the creation of wealth and their family's name. She knew her father had hoped that through her he would gain the respectability he craved.
'Marry old money,' he'd urged her. 'I want you to enjoy a good name and all that it can offer you.'
'But I like Grant,' she'd insisted on numerous occasions.
'So did your mother when she married me, but even she can see the benefit of our only daughter joining our family strategically to another so our grandchildren will reap the rewards.'
'What about Reggie?'
'Don't start, Louisa. It's hard enough as it is. I am fond of Reggie, but he will always —'
'I regard him as my brother, a true Grant, and not whatever it was you were about to say.'
Her father had smiled. 'He's lucky you're his half-sister, but he won't be the man in your life for much longer, my darling. You're twenty now. I'm afraid we must unleash your mother so she has the freedom to start hunting the best matches.'
'I will marry for love, Father.'
'Indeed you will. I suspect your mother loves me but don't for a moment think she didn't first fall in love with my bank account and how happily I spent its contents on her.'
It was true. Her father was generous with his money; she'd heard as much murmured by jealous women out of her mother's earshot.
'Have you seen how he splashes it around? That monstrous house he's building up north! So garish.'
'New money always is, dear.'
'Look at the way he lavishes it on her. She's like a chandelier, she sparkles so much.' Louisa had liked the image of her mother as a twinkling chandelier, but when she'd heard their cruel accompanying laughter she'd understood that this was not a compliment.
Her father's country manor was indeed a monster, sitting on near one thousand acres of private land, but to her child's eyes Woodingdene Estate was a friendly house with magical gardens. Henry Grant had chosen to mark his worldly standing with bricks, using his ability to generate money from a wide range of overseas investments to fund this gregarious dwelling that reflected all his travels. She grew up to learn that its taste was not so much fashionable as ostentatious. Nevertheless, Woodingdene was well ahead of its time in its design, furnishings, and especially its new-fangled hydroelectric generator that powered the house, which had the whole county talking. Little wonder people spoke about Woodingdene as if it had arrived from beyond the moon to settle on a natural crag just beneath the hill. The sprawling estate plunged gently towards a lake and a slow-moving stream, via rock gardens, a stunning arboretum and valley gardens with gentle waterfalls.
She didn't dare dwell right now on the iron bridge that had her initials romantically wrought into its design. This was James's work, commissioned by her father, thus bringing together the young woman full of uncontrolled passions and the quixotic Scottish engineer with whom she had fallen in love, before falling prey to his adventuring spirit.
So come now, Death whispered in her mind. Time draws close.
Louisa Knight felt the lightest of breezes stir her hair, which had once been described by her husband as 'fairy's tresses'. When she had asked why, he explained it was so long and soft that a fairy could snuggle up and go to sleep in one of its darkly golden curls. Today it was moist – dull now, she was sure, but that didn't matter any more.
'Clementine?' she whispered.
'I'm here, Mummy.' She felt a little hand grip hers. So Clementine had never left her side.
'Fetch your father . . . but hug me first.'
She felt the chubby arms reach around her neck and the touch of a soft, warm cheek against her dry, feverish face; heard her daughter remind her that she loved her and say that she would run down to the river to fetch her father.
'Good girl, my darling.' She had just enough strength to steal a kiss of her child's cheek, the skin velvety like a ripe peach. She hoped her daughter saw a smile as she pulled away, for she knew it would be gone on her return . . . and so would she.
---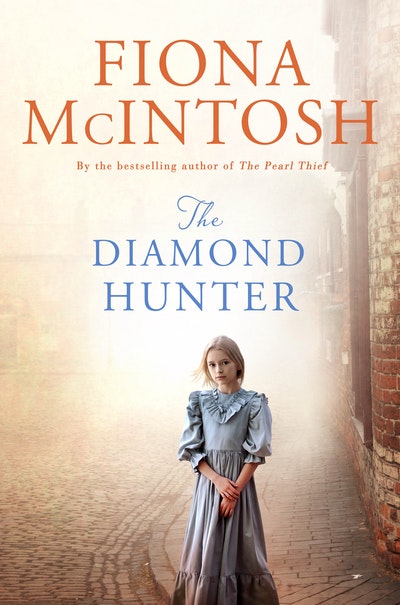 The new historical blockbuster by the bestselling author of The Pearl Thief.
Buy now
Buy now
---