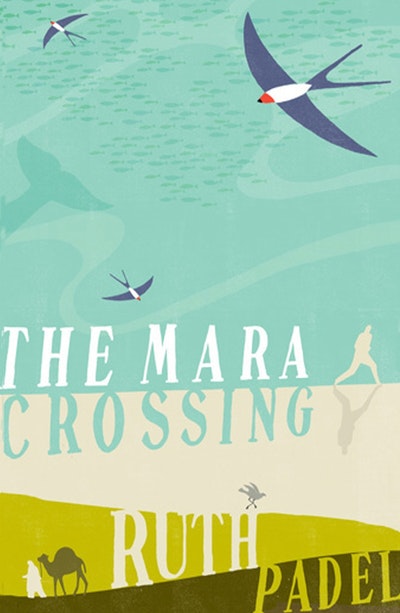 Published:

5 January 2012

ISBN:

9781409027423

Imprint:

Vintage Digital

Format:

EBook

Pages:

272
The Mara Crossing
---
---
Ruth Padel's new collection of poems, The Mara Crossing, offers a unique perspective on migration and immigration
Where are you from? What does 'native' mean if the 'English' oak is an immigrant from Spain?
With its vivid portraits of life on the move, Ruth Padel's magnificent tapestry of poetry and prose shows us that the evolutionary point of migration is survival. Cells travel in our bodies, the migration of eight million fruit bats pollinates the African rainforest, geese battle winds over Everest, and at the climax of their epic migration, wildebeest plunge into the Mara River teeming with crocodiles. Migration is crucial to all life on the planet, not least human beings: the history of civilization is also the story of migration.
Yet today human displacement poses one of the greatest challenges we face. After the animals come compelling images of historical displacements: the Flight into Egypt, the refugee who founded Rome, John James Audubon feeding migrant birds on a boat to America, and haunting poems of refugees on our drastically changing planet.
Startling, moving and highly original, The Mara Crossing weaves science and myth, wild nature and human life to conjure up a world created and sustained by migration. Here is a beautiful and unforgettably lyrical hybrid from the acclaimed author of Darwin: A Life in Poems.
Published:

5 January 2012

ISBN:

9781409027423

Imprint:

Vintage Digital

Format:

EBook

Pages:

272
Praise for The Mara Crossing
A vertiginous compendium, a prodigy, a book of wonders: it is Montaigne's and Darwin's 21st-century child

Independent
A broad-ranging meditation on all things migratory...This is a book of raw interfaces and unnerving encounters. Magnificent poems... a triumph of imagistic ingenuity

Guardian
(A) thoughtful and often quite magical mix of prose and poetry…What is just as fascinating as Padel's central theme is the insight that she also gives us into poetry, or rather, into the creation of a poem.

Lesley McDowell, Independent on Sunday
The Mara Crossing is a major meditation on migration. The prose is crystalline, the poems full of the wonderful material stuff of life. It's a poet's book to the core, a passionate exploration of her subject, proving that pressures on cells, bodies, creatures (human and other), and on the planet itself, are fit and essential matter for poetry

Jo Shapcott
A glorious fabric, weaving lyricism and hard facts, poetic insight and scientific detail unwinding from the multitudinous threads of geographical migration. A beautiful, far-ranging book about physical journeys and all they might mean to humans and animals alike

Mark Cocker
In this sweeping an unconventional book about migration, Padels commendably calls for compassion and open borders. Her poems and essays are a lyrical tribute to the instincts and whims that catalyse movement, and the trials and beauties that come with motion... there are wonders of nature in this collection which will give pause to sensitive readers

The Economist
In an original, wonderfully imaginative series of reflections, moving between essayistic insights, condensed metaphors of poetry, mysteries of microbiology and animal or human journeys, Ruth Padel takes migration as her subject and the whole earth as her province. A thrilling, poignant, richly illuminating investigation of the energies which create life and drive history

Eva Hoffman
Who would have thought that a poet would write about one of the most fascinating aspects of behavioural biology and human striving? A remarkable, beautifully constructed book, interleaving science and history, clear prose and evocative poems

Professor Patrick Bateson, President of the Zoological Society of London
This book is an extraordinary mixture of poetry, prose, fact and fantasy.

Kate Saunders, Saga Magazine
An engrossing meditation on the theme of migration…reads like a collaboration between Dorothy Wordsworth and Darwin.

Mark Sanderson, Sunday Telegraph
Lyrical in its prose

Boyd Tonkin, Independent