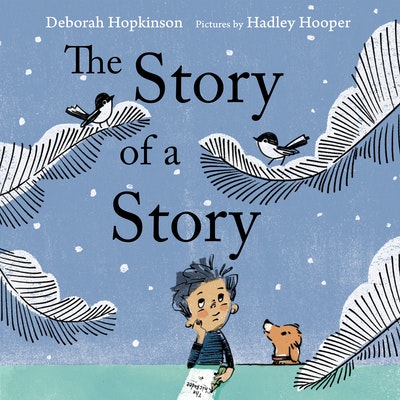 Published:

18 January 2022

ISBN:

9780823444915

Imprint:

Holiday House

Format:

Hardback

Pages:

40

RRP:

$37.00
The Story of a Story
---
---
Writers young and old know it's hard to create a story of one's own, here's a simple, elegant picture book that might help them find the key. Hint: It involves persistence.
A mostly empty page
Then another.
And still another.
There are squiggles.
There are doodles.
But the words won't come.
If you've ever tried to write a story of your own, you know it's not as easy as it looks. Words get tangled, pencils get broken, after a while you'll do anything just to distract yourself! The Story of a Story follows a boy with just the same problem as he struggles to find inspiration and get his words flowing.
He tries everything, scribbling, scrawling, and crumbling pages. He reads stories he loves and eats a cookie reaaaaaally slowly, just to pass the time. But just when he's about to give up hope, he sees a little chickadee collecting seeds outside his window. He admires its concentration and commitment as it picks away, one seed at a time, determined and unstoppable. The boy knows this is what it takes to create something special, so he comes back to his desk and writes just one word, and then another.
Two-time SCBWI Golden Kite Award Winner Deborah Hopkinson writes with the gentle reassurance of experience in The Story of a Story, with the help of the buoyant illustrations of Hadley Hooper.
Published:

18 January 2022

ISBN:

9780823444915

Imprint:

Holiday House

Format:

Hardback

Pages:

40

RRP:

$37.00