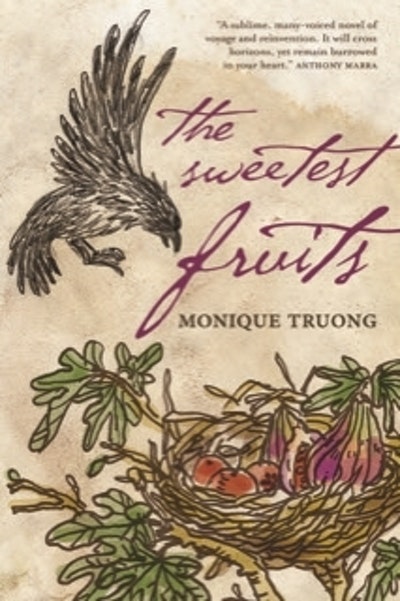 Published:

31 August 2021

ISBN:

9780645076325

Imprint:

Upswell

Format:

Paperback

Pages:

320

RRP:

$37.00
The Sweetest Fruits
---
---
The Sweetest Fruits circumnavigates the globe, introducing three unforgettable women connected by their love for one man. They narrate their own stories and their intrepid search for love and belonging.
With brilliant sensitivity and an unstinting eye, The Sweetest Fruits illuminates the women's tenacity and their struggles in this novel that circumnavigates the globe in the search for love, family, home, and belonging.
Monique Truong gives voice to three women, Rosa, Alethea, and Setsu, who each tell the story of their life with Lafcadio Hearn (1850-1904), a globetrotting Greek-Irish writer best known as the author of America's first Creole cookbook and for his many volumes about the folklore and ghost stories of Meiji Era Japan. An immigrant thrice over, Hearn is now remembered at best as a keen cultural observer and at worst as a purveyor of exotica.
In their own unorthodox ways, the three women are also intrepid travelers and explorers. Their accounts witness Hearn's remarkable life but also seek to witness their own existence and luminous will to live unbounded by gender, race, and the mores of their time. Each is a gifted storyteller with her own precise reason for sharing her story, and together their voices offer a revealing, often contradictory portrait of Hearn.
Published:

31 August 2021

ISBN:

9780645076325

Imprint:

Upswell

Format:

Paperback

Pages:

320

RRP:

$37.00
Praise for The Sweetest Fruits
It isn't only the fantastic Lafcadio Hearn who springs to new life in these pages. The women around him do as well, even as they mix the extraordinary and the ordinary in an exhilarating new way. The Sweetest Fruits is brilliant and heartbreaking–I was transfixed.

Gish Jen, Author of Typical American
Presented in four courses from the perspective of the women closest to him, The Sweetest Fruits is a feast you'll want to devour for its arresting metaphors and its beautiful prose.

ANITA LO, AUTHOR OF SOLO: A MODERN COOKBOOK FOR ONE
Intimate and sensuous yet majestic in scope, The Sweetest Fruits is a rapturous, glorious novel, extraordinarily alive to the world.

IDRA NOVEY, AUTHOR OF THOSE WHO KNEW
Monique Truong has composed a sublime, many-voiced novel of voyage and reinvention. It will cross horizons, yet remain burrowed in your heart.

ANTHONY MARRA, AUTHOR OF A CONSTELLATION OF VITAL PHENOMENA
By giving readers a concert of voices, at last singing louder than Hearn's biography and mythology, Truong asks us to ponder the ways those who are often ignored and marginalized might have their own rich, epic stories worth telling. In that sense, The Sweetest Fruits is a type of justice.

ERIC NGUYEN, DIACRITICS
The novel empathetically imagines the circumstances of these forgotten women, so influential and supportive of Hearn. Yet the truest kinship lies between author Truong and Hearn himself, both segueing between vastly different cultures, making the common humanity of even the most disparate lives instantly accessible.

Damian Flanagan, THE JAPAN TIMES
A delicate, impressionistic tale . . . Truong is exploring personal memory in all its creative and contradictory subjectivity…[The Sweetest Fruits] is propelled not by action but by the retrospective piecing together that happens once a relationship is over. Spurred by nostalgia, regret, longing and anger, each woman examines her memories…As Setsu observes, 'to tell another's story is to bring him to life,' but here it's the women who achieve that feat rather than the man who connected them

Priya Parmar, THE NEW YORK TIMES BOOK REVIEW
Monique Truong has composed a sublime, many-voiced novel of voyage and reinvention. It will cross horizons, yet remain burrowed in your heart.

Anthony Marra, AUTHOR OF A CONSTELLATION OF VITAL PHENOMENA
A marvelous mixture of fact and imagination . . . Truong's lush style is on gorgeous display in these pages, her imagery evoking hidden emotional depths . . . While the lives, loves and adventures of Lafcadio Hearn hold center stage in this novel, these are set off by a rich brocade of social critiques — of slavery, colonization and the repression of women. With great generosity and compassion, Truong explores the difference between writing and telling stories, with the question of who gets to speak and who remains silent.

Diana Abu-Jaber, THE WASHINGTON POST?
I've been addicted to Truong's writing ever since her debut, The Book of Salt, a work of historical fiction incorporating real people that felt—unlike much of that genre—lush, invigorating, and real. Her third novel fictionalizes Greek-Irish writer Lafcadio Hearn but through the eyes of only his mother and his two wives—one a freed American slave, the other his Japanese translator.

Boris Kachka, NEW YORK MAGAZINE
Monique Truong's nomadic tale is a look at the storied life of 19th century writer and expeditionist Lafcadio Hearn through the eyes of the women who knew him best. Sweeping in scope and written in tight, precise language, it's a read-into-the-night pick. —Marie Claire Truong transforms author Lafcadio Hearn's biography into a revelatory mystery by giving voice to three women who shaped him.

Jane Ciabattari, BBCB