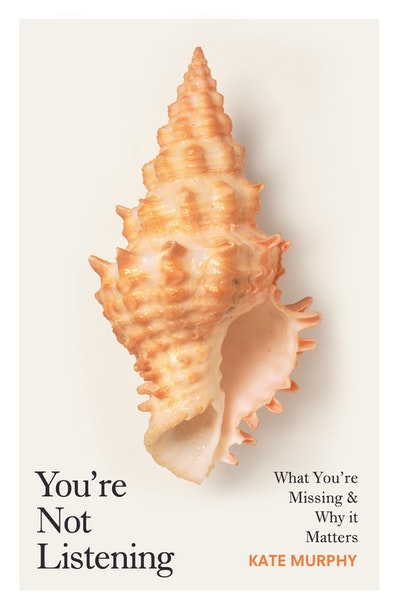 Published:

7 January 2020

ISBN:

9781787300965

Imprint:

Harvill Secker

Format:

Trade Paperback

Pages:

288

RRP:

$40.00
You're Not Listening
What You're Missing and Why It Matters
---
---
---
When was the last time you listened to someone, or someone really listened to you? This life-changing book will transform your conversations forever
When was the last time you listened to someone, or someone really listened to you? This life-changing book will transform your conversations forever
As a society, we've forgotten how to listen. We hear all too much: modern life is noisy and frenetic, and technology provides a constant distraction. So we've learnt to listen selectively – especially to those we love most. We've become scared of other people's points of view, and of silence.
Yet now more than ever, we need to listen to those around us. Listening carefully can help us to understand different opinions, prevent atrocities and even save lives.
In Listen, New York Times journalist and professional listener Kate Murphy draws on countless personal conversations she has had with everyone from priests to CIA interrogators, focus group moderators to bartenders, her great aunt to her friend's toddler, to show how only by listening well can we truly connect with others.
Active listening is about curiosity and patience – about asking the right questions in the right way. Improvisational comedians and con men are much better at it than most of us. And the cleverest people are often the very worst at it. Listening has the potential to transform our relationships and our working lives, improve our self-knowledge, and increase our creativity and happiness. It may take effort, but it is a skill that can be learnt.
When all we crave is to be understood, Listen shows us how.
Published:

7 January 2020

ISBN:

9781787300965

Imprint:

Harvill Secker

Format:

Trade Paperback

Pages:

288

RRP:

$40.00
Praise for You're Not Listening
In this powerful and potentially life-changing book… the US journalist and author argues that in this age of technology and political division, actually just listening is more important than ever... Part expose, part rousing call to action, and part manual of practical advice... The book looks to be to listening what Susan Cain's Quiet was to introversion.

Caroline Sanderson, Bookseller
An essential book for our times. How well we listen determines how we love, learn, and connect with one another, and in this moment when we need to hear and be heard more than ever, this thought-provoking and engaging book shows us how.

Lori Gottlieb, New York Times bestselling author of Maybe You Should Talk to Someone
In an age of echo chambers and multiple narratives, there is a lot of noise going on but very little listening. In this insightful, cogently reasoned book, Murphy extols the myriad virtues of this underused skill... A thoughtful, eloquent volume that could transform not just your relationships but your own worldview as well.

Waterstones Best Non-fiction Books for 2020
Gripping from start to finish... brilliant…extraordinarily interesting…full of meat and gold.

Chris Evans, Virgin Radio Breakfast Show
I was instantly hooked by Kate Murphy's simple but profound argument--that although listening is the foundation of communication, innovation, growth, and love, few of us really know how to do it properly, or where to even start. You're Not Listening is a captivating and enlightening book that provides readers with a road map on how to listen and why it is so important to how we connect, work, and live.

Kim Scott, New York Times bestselling author of Radical Candor
Wide ranging, deeply researched, readable and persuasive. Ms Murphy, we hear you!

Rose Shepherd, Saga Magazine
We are losing this most crucial, arguably, of our skills in the modern world... I'll be adopting Murphy's advice... and I will be employing "support" responses everywhere.

Charlotte Edwardes, Sunday Times Style Magazine
It's time for a spot of re-education... A fascinating guide to something we assume we do automatically, yet for the most part do very badly... The art of listening is really the art of being human.

Stephen Moss, Guardian
In an age when technology has made it easier than ever before to talk with each other, we've paradoxically become worse at listening. Fortunately, we have Kate Murphy to teach us how to reclaim this crucial skill. This book changed the way I think about communicating with the people who matter to me.

Cal Newport, New York Times bestselling author of Deep Work and Digital Minimalism
If you're like most people, you don't listen as often or as well as you'd like. There's no one better qualified than a talented journalist to introduce you to the right mindset and skillset - and this book does it with science and humour.

Adam Grant, #1 New York Times bestselling author of Originals and Give and Take
Murphy has correctly identified a problem... This isn't a neo-Luddite manifesto, urging us to wean ourselves decisively off our phones, but it is a useful reminder that happiness often lies elsewhere.

Amelia Gentleman, Guardian
As any Samaritans volunteer will tell you, learning to listen properly can change lives — your own included. You're Not Listening perfectly describes a problem a lot of us face in the smartphone age, and how to fix it.

Holly Brockwell, Evening Standard
Murphy's book is intelligent and thought-provoking… Listening is when someone take a real interest in who you are…a moment of attunement and understanding that sticks in both heads. We could all do with some of that

Melanie Reid, The Times
A lot of what Murphy is writing about here seems incredibly simple, but many observations struck me as inspiringly profound… Murphy is here to remind us – entertainingly and compellingly – exactly why it matters so much, especially right now. Hear, hear

Viv Groskop, Observer
A thoroughly researched piece of long-form journalism… An interesting read

Natalie Bowen, UK Press Syndication
Murphy offers a timely reminder of how we could enrich out lives and relationships if we redouble our efforts to listen to opposing views

Lucy Popescu, Tablet
Full of fascinating insights and advice on the art of listening. Written by a talented New York Times journalist, You're Not Listening is a deeply researched and thought-provoking read… [that] feels timely and necessary

Eastern Daily Press, *Book of the Week*
This lively book makes an impassioned plea for listening… an instructive and thought-provoking book

Emma Jacobs, Financial Times
A timely intervention

Niki Seth-Smith, New Humanist