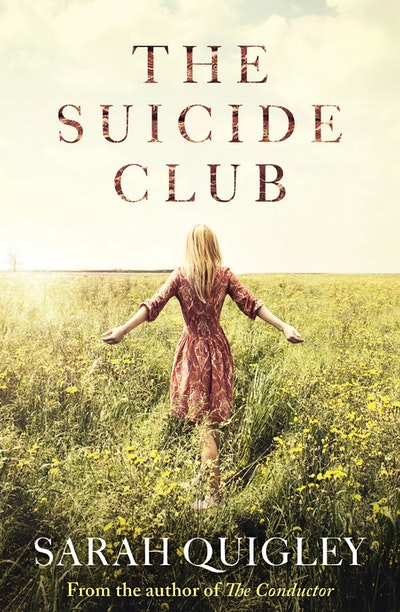 Published:

1 May 2017

ISBN:

9780143771012

Imprint:

RHNZ Vintage

Format:

Trade Paperback

Pages:

416

RRP:

$38.00
The Suicide Club
---
---
---
A brilliantly written story of love and friendship.
Three misfits – close to genius, close to the brink – come together in a desperate love triangle in this compelling novel.
When Bright is suddenly catapulted to fame, he can't cope with the pressure. He decides to end it all by jumping from the 20th floor of a high-rise on his twentieth birthday. He's saved by the quirky, eccentric Gibby, and soon the two boys find themselves in a love triangle, vying for the attention of the beautiful, brilliant, unreachable Lace, and also trying to protect her from harm.
The three misfits – close to genius, close to the brink – travel from England to a beautiful old spa town in Bavaria. Here, in an experimental institution under the colourful Dr Geoffrey, the pressure mounts. Soon it's no longer clear who's in the greatest danger, and who needs saving the most.
Unflinching, but tender and often humorous, The Suicide Club is an examination of the last taboo in our society – as well as our deep human desire to connect. It explores why we feel the need to extinguish our lives, how we can pull back from the edge, and how – by saving ourselves – we can sometimes also save the people we love.
Published:

1 May 2017

ISBN:

9780143771012

Imprint:

RHNZ Vintage

Format:

Trade Paperback

Pages:

416

RRP:

$38.00
Praise for The Suicide Club
This is writing fuelled by a vivid energy. . . sophisticated, gritty fiction that readers will be pleased to encounter.

Paul Little, North & South
What a delight, now, to pick up Sarah Quigley's The Suicide Club, and be transported to England and a cast of youthful, brilliant, yet fractured characters. . . . For Lace, "life is one long process of losing . . . Suicide is a tough, emotionally charged subject and Quigley pulls no punches. Yet she also writes with humour. Her characterisation of the minor players verges on farce. But it doesn't diminish the subject's seriousness. Rather, it relieves the darkness, shines a light on the "weirdness" of us all, and lifts the heart. . . . This book is beautifully written and thought provoking. This time next year it could well be Quigley standing on the Ockham New Zealand Book Awards stage.

Colleen Hawkes, Sunday Star-Times
This is a beautifully, almost lyrically, written novel by New Zealand author Sarah Quigley. It is a story of love and friendship, tragedy and loss. The book dares to discuss one of society's last taboos – the desire to end it all when life becomes too much. Quigley treats the topic with sensitivity and compassion but doesn't flinch from confronting its harsh and haunting reality. Although there are undoubtedly dark moments, as is probably inevitable given the title of the book, there are many wonderfully lighter moments. There is humour amongst the pain. . . This is a haunting and thoughtful story, a very clever novel.

Tiffany Matsis, The Reader, Booksellers New Zealand's blog
Sarah Quigley's latest novel tackles a serious contemporary issue - youth suicide - with a light and thought provoking touch. . . . With a cast of likable quirky characters, liberal use of black humour, and the occasional almost farcical event, Quigley still manages to give the subject matter the respect it deserves. Very clever and very readable.

Latitude