Read the poems being discussed on Jesse Mulligan's show on Radio New Zealand on 9 August 2018
Three Poems
by Owen Marshall
Funeral in the Rain
So it is impossible to resist the screenwriters'
ubiquitous cliché, better to place an arm about
its shoulder and guide the scene through the oh
so familiar props. Black-clad mourners beneath
the weeping umbrellas, darkly sleek limousines
slowing among the trees and graves. Harsh
crow chorus that drowns out the ashes-to-ashes
priestly monologue, and we note the widow's
shapely ankles, a sister's lace handkerchief
stern, constrained colleagues with collars up
blue wild-flowers clasped by a solemn child.
Then, at some remove, on misted, higher ground
with tombstones, the solitary woman, austerely
beautiful despite her grief, bowed as a question
mark. Mistress, lover, long lost or repudiated
daughter, even avenger perhaps, who turns before
the service ends, and takes all eyes with her as
she walks through the rain and the crows' mockery
to the stone gates, and then farther in to the plot.
Thistledown Farewell
Rome's Imperial Age was the final exam
then I went to Cheviot to spend a summer
working for a trucking firm. Mainly it was
carting hay, and over weeks my townie hands
hardened beneath the gloves, the accustomed
focus of my eyes lengthened to the hills again.
On the day I finished there was a flight of thistle
down as we sprawled beneath some cockie's
poplars. Pale, silent, drifting, insubstantial
multitudes as a ceaseless shoal of baby jellyfish
against the blue sea sky, or the lightest, trembling
foam baulked along a hedge. Even the boss lifted
a brown arm to snatch. 'Bloody thistles,' he said.
'It's always the useless things that spread the best.'
Back to the Wekaweka
In old age Dad took us back to the Wekaweka
to find the whare site of childhood on that
failed farm. Just split timber, calico windows
and camp oven, he told us. Nothing remained
except the creek which gave him his bearings
and he ranged through the wet undergrowth until
he found the moss-encumbered rock he'd drilled
into as a boy. How urgent he was to uncover
the evidence of seventy years before, putting
his little finger in the holes as if he were
the doubting Thomas of whom he often preached.
Pongas floated in the shadows, wet leaf mould
sponged beneath our feet. A rain mist draped
about the shoulders of the hills on which the
kauri massed. It was a home-coming place in
which my father greeted himself, wearing his
self-referential half smile: an old man circled
back to capture boyhood's elusive image. On that
steep farm, reverted now to nature, he had lain
nightly to dream a future and listen to kiwis
and moreporks talk through the walls to him.
Maybe he hears them now again in that endless
strangely forested darkness at life's end
lying calm in the knowledge of our love.
© Owen Marshall, from View from the South, published August 2018
---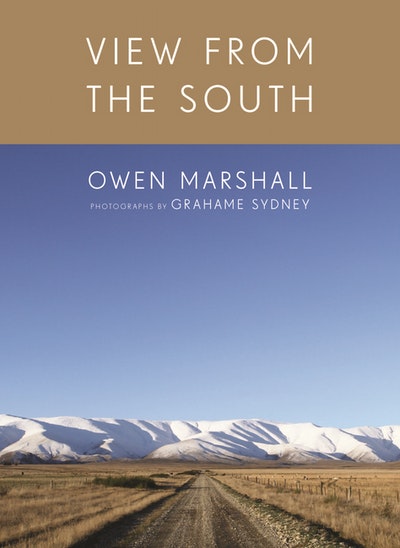 'His poetry is bright, confident and compelling. ' - Otago Daily Times
Buy now
Buy now
---