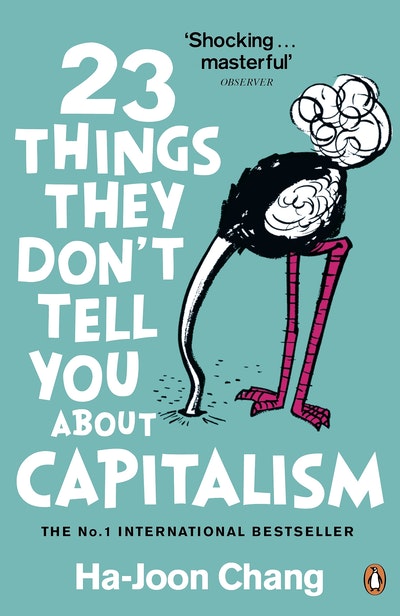 Published:

7 October 2011

ISBN:

9780141047973

Imprint:

Penguin Press

Format:

Paperback

Pages:

304

RRP:

$30.00
23 Things They Don't Tell You About Capitalism
---
---
'A masterful debunking of some of the myths of capitalism ... Witty, iconoclastic and uncommonly commonsensical ... this book will be invaluable' Observer
In 23 Things They Don't Tell You About Capitalism one of today's most iconoclastic thinkers destroys the biggest myths about the world we live in.
There's no such thing as a 'free' market
Globalization isn't making the world richer
We don't live in a digital world - the washing machine has changed lives more than the internet
Poor countries are more entrepreneurial than rich ones
Higher paid managers don't produce better results
This galvanizing, fact-packed book about money, equality, freedom and greed proves that the free market isn't just bad for people - it's an inefficient way of running economies too. Here Chang lays out the alternatives, and shows there's a better way.
Published:

7 October 2011

ISBN:

9780141047973

Imprint:

Penguin Press

Format:

Paperback

Pages:

304

RRP:

$30.00
Praise for 23 Things They Don't Tell You About Capitalism
A masterful debunking of some of the myths of capitalism ... Witty, iconoclastic and uncommonly commonsensical ... this book will be invaluable

Observer
Important .. persuasive . [an] engaging case for a more cautious and caring era of globalisation

Financial Times
Myth-busting and nicely-written . the best economists are those who look around at our man-made world and ask themselves "why?". Chang is one

Independent
In 23 lucid, sometimes breezily didactic chapters, Chang takes apart the stricken ideology of neoliberalism. Chang's method is not to engage with the neoliberals but to knock them down with assertions.

Paul Mason, Economics Editor, BBC Newsnight, Guardian
Ha-Joon Chang is a formidable critic...and a true exponent of the art of political economy

Michael Lind, Prospect
Chang's...iconoclastic attitude has won him fans such as Bob Geldof and Noam Chomsky.

Rachel Shields, The Independent on Sunday
For anyone who wants to understand capitalism not as economists or politicians have pictured it, but as it actually operates, this book will be invaluable.

John Gray, Observer