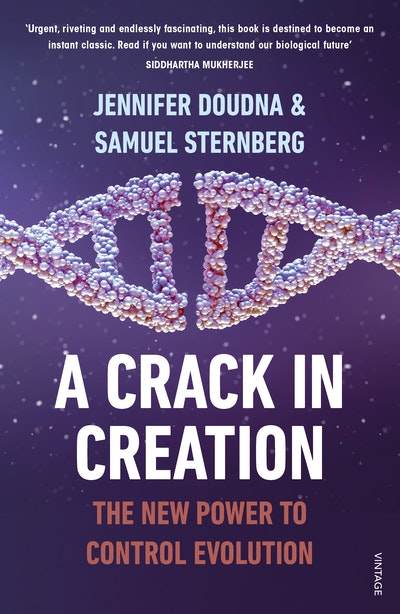 Published:

20 August 2018

ISBN:

9781784702762

Imprint:

Vintage

Format:

Paperback

Pages:

304

RRP:

$28.00
A Crack in Creation
The New Power to Control Evolution
---
---
The world-famous scientist behind 'one of the most monumental discoveries in biology' explores its devastating power to change the course of human history
Jennifer Doudna, the world-famous scientist behind CRISPR, 'one of the most monumental discoveries in biology' (New York Times), explains its discovery, describes its power to reshape the future of all life and warns of its use.
'Urgent, riveting and endlessly fascinating, this book is destined to become an instant classic. Read it if you want to understand our biological future' Siddhartha Mukherjee
'In this wonderful book … Doudna's and Sternberg's simple but compelling exploration of this hugely important subject offers and excellent overview of this startling and unprecedented discovery' Literary Review
A handful of discoveries have changed the course of human history. This book is about the most recent and potentially the most powerful and dangerous of them all.
It is an invention that allows us to rewrite the genetic code that shapes and controls all living beings with astonishing accuracy and ease. Thanks to it, the dreams of genetic manipulation have become a stark reality: the power to cure disease and alleviate suffering, to create new sources of food and energy, as well as to re-design any species, including humans, for our own ends.
Jennifer Doudna is the co-inventor of this technology - known as CRISPR - and a scientist of worldwide renown. Writing with fellow researcher Samuel Sternberg, here she provides the definitive account of her discovery, explaining how this wondrous invention works and what it is capable of. She also asks us to consider what our new-found power means: how do we enjoy its unprecedented benefits while avoiding its equally unprecedented dangers?
The future of humankind – and of all life on Earth – is at stake. This book is an essential guide to the path that now lies ahead.
'A scientific thriller and a gripping read by a brilliant scientist' Venki Ramakrishnan
Published:

20 August 2018

ISBN:

9781784702762

Imprint:

Vintage

Format:

Paperback

Pages:

304

RRP:

$28.00
Praise for A Crack in Creation
The most important advance of our era. One of the pioneers of the field describes the exciting hunt for the key breakthrough and what it portends for our future

Walter Isaacson
Too important … What may happen thanks to Doudna's [discovery] is dizzying … for her, this is the future of medicine. If she's right, then Crispr is about to make our present healthcare concerns look surprisingly trivial

Bryan Appleyard, Sunday Times
One of the architects of this miraculous biological technique … explains the science clearly and excitingly as a kind of globalist detective story

Telegraph
Probably the greatest biological breakthrough since that of Francis Crick, James Watson and Rosalind Franklin… We owe Doudna several times over – for her discovery, for her zeal to take it from the lab into the clinic, for her involvement in the ethical issues raised, for her public engagement work, and now for this book

Peter Forbes, Guardian
An urgent plea from the celebrated biologist whose discovery enabled us to rewrite the code of life. The future is in our hands as never before, and this book explains the stakes like no other

George Lucas
Urgent, riveting and endlessly fascinating, this book is destined to become an instant classic. Read it if you want to understand our biological future

Siddhartha Mukherjee
In this wonderful book … Doudna's and Sternberg's simple but compelling exploration of this hugely important subject offers and excellent overview of this startling and unprecedented discovery

Literary Review
An exhilarating and frightening roadmap to our future by one of the most pioneering women in science

Arianna Huffington
Jennifer Doudna is the true pioneer who built the bridge between the basic science of CRISPR and its diverse applications. Now is the time to read about the revolution that could change our world

George Church
A scientific thriller and a gripping read by a brilliant scientist

Venki Ramakrishnan
One of the most monumental discoveries in biology

New York Times
A detailed account of the story so far. It may well end up being compared with the book that inspired a 12-year-old Doudna in the first place: James Watson's The Double Helix … Packed with amazing female scientists, it is thrilling, generous and no less personal … We need scientifically informed conversations about what we should do next with these powers, and Doudna's book is a good place to begin

Adam Rutherford, New Scientist
A welcome new contribution to the [gene editing] debate… She should be congratulated for being one of the very few scientists involved in a breakthrough to write a timely, popular personal account… Doudna's style, more contemplative than Watson or Venter, is just as effective at describing the increasingly frantic pace of life in the lab, as researchers realise that epoch-making discoveries are in the offing. She tells the scientific back-story particularly well… The arguments are rehearsed with admirable clarity

Clive Cookson, Financial Times