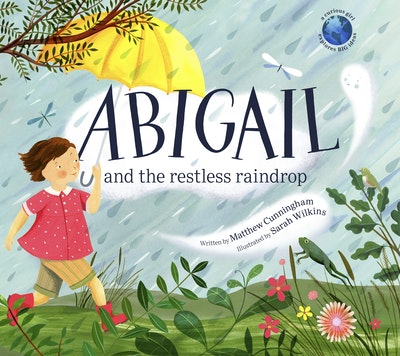 Published:

2 July 2020

ISBN:

9780143774495

Imprint:

Picture Puffin

Format:

Paperback

Pages:

32

RRP:

$19.99
Abigail and the Restless Raindrop
---
---
Come with Abigail and her mother on a magical adventure, soaring up into the clouds to discover where the raindrops come from.
Join Abigail on a rainy-day adventure to explore the marvellous movement of water around the Earth.

Abigail is a curious little girl. She likes to discover the answers to really BIG questions. One rainy morning, she thinks of a question that's SO BIG she can't concentrate on anything else until she knows the answer.
"Mummy," she asks, "how did the water get in the clouds?"
To discover the answer, Mummy invites Abigail on an exciting adventure with a tiny drop of lake water. Together they fly up into the sky to explore the marvellous movement of water around the Earth.
By dinner time, Abigail has thought of another big question . . .
Ideal for any child who loves to ask questions, Abigail and the Restless Raindrop is anexquisitely illustrated and beautiful bedtime story doubling as an introduction to the hydrologic (water) cycle.
Published:

2 July 2020

ISBN:

9780143774495

Imprint:

Picture Puffin

Format:

Paperback

Pages:

32

RRP:

$19.99
Praise for Abigail and the Restless Raindrop
Abigail has an innate curiousity about the world around her. I love the way an ordinary rainy day walk is turned into an opportunity for her imagination to expand. The book is also replete with lush, lively illustrations that involve the reader in Abigail's sense of wonder. From traipsing the galaxy in the first book, the reader is now taken on a watery, wonderful ride of blues and greens, deep lakes and rustling grasses, ducks, fish, starry nights and summer days. Reading this book really does feel like entering another world, and I can imagine eager eyes being drawn to the pages – I know mine were. The story gives a simplified, imaginative version of the water cycle. It follows the journey of one little water drop as she flies up to the sky and then falls back down to the ground. The personification of the natural world gives Abigail a unique way of interacting with it and imagining that she too is a raindrop. It is a beautiful way of helping children to discover the magic that is the real world around them. Its creators should be commended.

Susannah Whaley, NZ Booklovers
The writing flows so perfectly. The illustrations are captivating.

Paula Green, Poetry Box
Curious Abigail soon gets a weather lesson from her mum via the tale of a restless raindrop that lives in a lake but longs to fly.

Herald Sun
Sarah Wilkins' illustrations are beautiful and engaging, adding a sense of wonder and whimsy to the sweet and informative story.

Emma Wood, Otago Daily Times
An enjoyable tale that successfully explains the science of condensation and precipitation. The colourful illustrations enhance the text and the amount of detail on each page will enchant young readers.

Jenny Millar, Magpies
In this book, curious youngster, Abigail, is off on another magical adventure as she and her mum discover where the raindrops come from and why they are such an important part of our world.

Eastlife
Answering her child's question, a mother simply explains the water cycle through her story about a raindrop that wants to fly. Elegantly realised by a Wellington-based international illustrator; so simple a puddle-jumping preschooler will get it.

Ann Packer, NZ Listener Best Children's Books 2020
Article
Article
Article
Beautiful NZ Picture Books from 2020
Sometimes a story is best told alongside a beautiful picture, Here's a small selection of some of our favourite 2020 picture books from local creators.