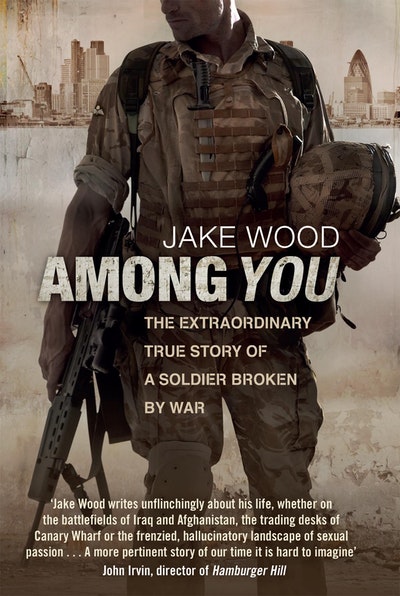 Published:

17 January 2013

ISBN:

9781780577197

Imprint:

Mainstream Digital

Format:

EBook

Pages:

448
Among You
The Extraordinary True Story of a Soldier Broken by War
---
---
An extraordinary and very real account of the impact of modern combat
Among You is a gripping psychological real-life account of idealism, dehumanisation and post-traumatic stress disorder, set against the juxtapositions of business, combat, love and betrayal.
On his first tour of duty, the author experiences the harsh reality of front-line combat during the invasion of Iraq. On his second, he conducts surveillance on Iraqi insurgents. But he does not return to a barracks after each of these tours, for he is TA. Instead, he returns to the glass tower of an international investment bank. As well as finding love – and betrayal – in the workplace, his eyes are opened to the amorality of the banking business, from which he eventually escapes, returning to the only world that now makes any sense to him.
In Afghanistan, the soldier discovers the savage, dehumanising effect that war exacts on both the body and mind. Diagnosed with chronic PTSD upon his return, and with the loss of the two conflicting walks of life that used to personally define him, he must now fight the last enemy – himself – in order to exorcise the ghosts of his past.
Published:

17 January 2013

ISBN:

9781780577197

Imprint:

Mainstream Digital

Format:

EBook

Pages:

448
Jake Wood writes unflinchingly about his life, whether on the battlefields of Iraq and Afghanistan, the trading desks of Canary Wharf or the frenzied, hallucinatory landscape of sexual passion . . . A more pertinent story of our time it is hard to imagine

John Irvin, director of Hamburger Hill
The most haunting and moving account of how battle scars your mind

Daily Mail
Jake Wood tells his story with an expert eye for detail . . . intensely gripping and emotional

The Scotsman
As a military historian, I have read thousands of first-hand accounts of war, in all its gore and glory, brutality and suffering. But there were tears in my eyes as I followed Wood's story of his descent into the bleakness of Post-Traumatic Stress Disorder

Tony Rennell, Daily Mail
Jake Wood is . . . a burning man who shapes sentences with a poet's heart and a fighter's rage . . . This one soldier's story is indeed extraordinary and a reminder that if you can write like Jake Wood, your life - whether lived in your head or in the world at large - will be far from ordinary

The National
Gripping . . . an unforgettable, unflinching account of the effects of Post Traumatic Stress Disorder. Brutally honest and beautifully written

Rear Party website
Lively . . . thought-provoking . . . provocative

Defenders