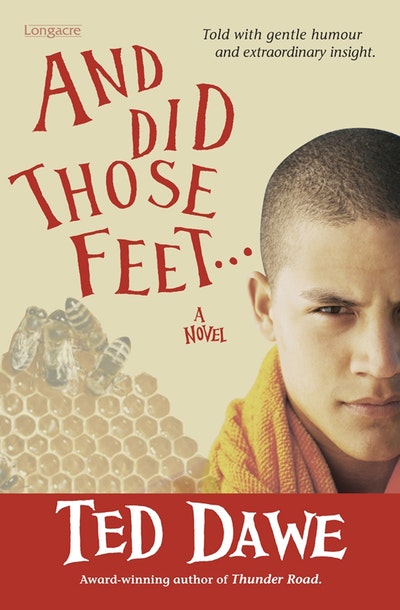 Published:

15 August 2014

ISBN:

9781775530800

Imprint:

RHNZ Children's ebooks

Format:

EBook

Pages:

126
And Did Those Feet ...
---
---
Adventure, danger and mystery from the award-winning Ted Dawe.
Adventure, danger and mystery from the award-winning Ted Dawe.
'The year mum died and Dad went mad I was packed off to a farm for a while.' The first sentence sets the scene for this tender and dramatic story.
But this is no ordinary farm: our narrator's Aunt Lorna, Uncle Frank and five cousins belong to the Jerusalem League, a William Blake cult. Their house is unusual, in that the rooms are hexagons – six-sided – as are the doors and windows, the dinner table and plates. And you guessed it; they're bee-keepers.
Our young narrator takes us through his initiation to farm life: chores and more chores, which he doesn't mind really, starting a new school and coping with the local bully, Noel Cudby, finding the perfect place: a swimming hole hidden in the bush, and making friends with Pimpernickle, the resident pig. It's here with Pimpernickle when we become aware of his loneliness: 'That pig is sure smart. I reckon he can tell my moods. When I'm feeling depressed, which is quite often to tell the truth, he comes over and stands next to me real close.'
But when our storyteller goes off to school camp things turn from wet to wetter. Noah's flood is served up with a good serving of wind: the river rises and floods and the sorry lot of wet kids and a few parents are forced to head for higher ground. How will they cross the river and reach safe ground? Just what happens when they're rescued? A tender story told with humour and insight.
Published:

15 August 2014

ISBN:

9781775530800

Imprint:

RHNZ Children's ebooks

Format:

EBook

Pages:

126
Storylines Notable Junior Fiction Award
Awarded • 2007 • Storylines Notable Junior Fiction