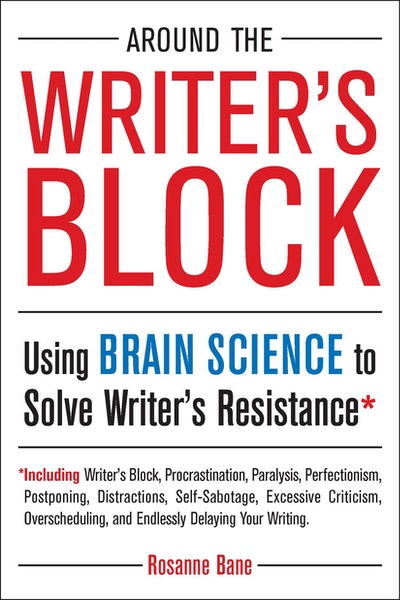 Published:

19 September 2012

ISBN:

9781585428717

Imprint:

Tarcher

Format:

Paperback

Pages:

320

RRP:

$26.00
Around the Writer's Block: Using Brain Science to Solve Writer's Resistance
---
---
What the heck is going on in your brain when you want to write-but can't?
Do you:
Want to write, but find it impossible to get started? Allow worry over criticism or rejection to keep you from writing? Remember then other things that you must do whenever you get ready to write? Sabotage your own best efforts with excessive self-criticism, missed deadlines, lost files, and lost opportunities? If you answered yes to any of these questions, the good news in that you're not lazy, undisciplined, or lacking in willpower, talent, or ambition. You just need to learn what's happening inside your brain. So stop blaming yourself and start harnessing the power of brain science to overcome resistance and develop a productive writing habit.
For more than twenty years, writing teacher and creativity coach Rosanne Bane has given thousands of writers the told to bust through writer's block and other forms of writing resistance. In Around the Writer's Block, she uses the latest breakthroughs in brain science to help you understand where writing resistance comes from-a fight-or-flight response hardwired into our brain, which can make us desperate to flee the sources of our anxieties by any means possible-and how to fight it.
Bane's three-part plan rewires the brain's responses to the anxiety of writing, and thus helps you develop new, reliable writing habits, leave stress and anxiety behind, and become the writer you've always wanted to be.
'Rosanne Bane's ingenious application of research about our brains to the process of writing and her wise counsel overall can help writers at every level.' Ralph Keyes, author of The Courage to Write and The Writer's Book of Hope
'The approach taken by Rosanne Bane in Around the Writer's Block strikes me as singularly refreshing and intelligent.' Ted Orland, co-author of Art and Fear

Published:

19 September 2012

ISBN:

9781585428717

Imprint:

Tarcher

Format:

Paperback

Pages:

320

RRP:

$26.00