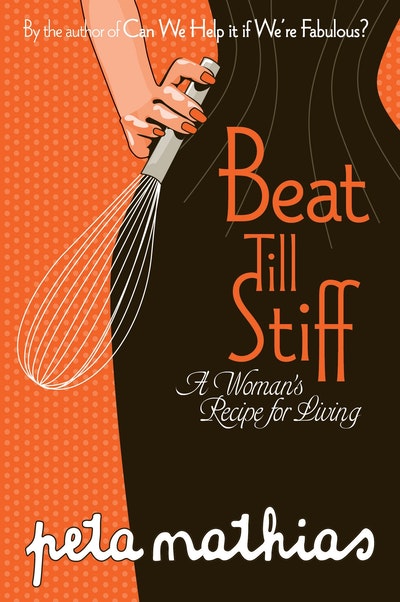 Published:

31 October 2011

ISBN:

9781742532318

Imprint:

Penguin eBooks

Format:

EBook

Pages:

264
Beat Till Stiff: A Woman's Recipe for Living
---
---
The book that will all at once entertain, comfort and confront you

Beating egg whites till they're stiff is a metaphor for life – just when you thought your existence would never be more than flaccid transparent snot, something happens to turn it into tight white light.
Once a counsellor, nurse and cook and now a writer, television presenter and all-round fabulous woman, Peta Mathias is the queen of transformation.  In Beat Till Stiff, Peta shares lessons learnt in her pilgrimage through life, such as how she stopped strangling her mother, why redheads  have more fun, and whether having an orgasm really makes a difference to sex, procreation or world peace.
In her bestselling guide to womanhood Can We Help it if We're Fabulous?, Peta shared with us her thoughts on being a woman.  In Just in Time to be Too Late, she turned her attention to what it means to be a man in the twenty-first century.  Now, in Beat Till Stiff, Peta covers topics she considers important, naughty or personal, all with a bent towards life's many transformations.  Some of the essays in Beat Till Stiff are scurrilous, many are funny and others autobiographical, but all are thoroughly entertaining.
Published:

31 October 2011

ISBN:

9781742532318

Imprint:

Penguin eBooks

Format:

EBook

Pages:

264