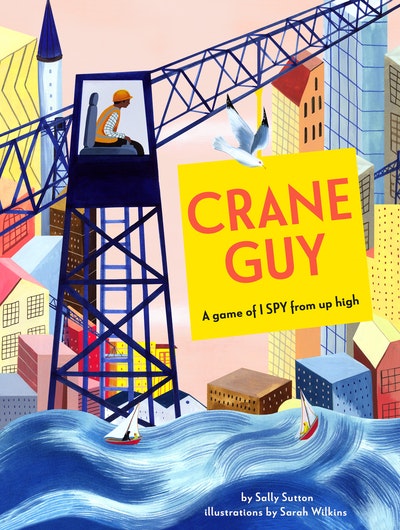 Published:

1 March 2022

ISBN:

9780143775652

Imprint:

Picture Puffin

Format:

Paperback

Pages:

32

RRP:

$19.99
Crane Guy
---
---
Let's see all the things we can spy, high above the city with Crane Guy!
Spend the day with Crane Guy and see how many things you can spy from up high in his crane.

Crane Guy, up so high,
Building towers in the sky,
Tell me, tell me what you spy.
Something beginning with . . .
Join Crane Guy for a game of I Spy up high in a crane - how many things can you see that begin with the letter B? Or S? Or P?
This superb rhyming picture book by acclaimed author Sally Sutton and illustrator Sarah Wilkins makes a very fun game of learning letters and their sounds. Readers will love exploring the gorgeously detailed city scenes over and over again.
Bustling with people, construction machines and vehicles of all kinds, Crane Guy is perfect for all young children obsessed with 'up high' places!
Published:

1 March 2022

ISBN:

9780143775652

Imprint:

Picture Puffin

Format:

Paperback

Pages:

32

RRP:

$19.99
Crane Guy is such a captivating read, I am wondering if it could be the first one in a series. I'd love that!...I recommended this book H-EYE-GHLY.

Paula Green, Poetry Box
Sally Sutton is the queen of machinery books for kids. If you don't have a four-year-old boy in your household, you might wonder why the fuss over vehicles/machines. Well, between the ages of 3-6 boys (and some girls) become obsessed with machinery. They'll stop you in the street to watch them in action and it'll take you ages to get your young person to move on. I know from experience. They'll also ask endless questions about the machines. So, Sally has done a great service to parents all around the country satisfying 4-6 year old children's love of machinery. And she does it with style! ...Great design and illustration and wonderful lilting language that will lend itself to be read aloud in the classroom and of course at home...Kids will pore over this book, long after they've had it read aloud to them.

Maria Gill, Kids Books NZ
With wonderful rhyming, this book lets readers play a game of I SPY on high with Crane Guy. Although the book's I spies aren't always immediately obvious, lively illustrations ensure there are plenty of other options available. And just in case you're lacking imagination (or are too tired to care), there's a list of other options supplied at the back of the book. Great bedtime story.

Ann Kilduff, Whanganui Chronicle
This fun interactive book encourages verbal interaction between children and adults (or older children) and is more of an activity book than a narrative. It would be a sweet book for a father to read to a child ... Highly recommended.

Carola Crawford, English teacher, Karanga Mai Young Parents' College, Kaiapoi, The School Library
Lovely rhythm and rhyme throughout make this book a joy to read aloud. Sarah Wilkins' illustrations have striking graphic and geometric elements, and children will have fun identifying objects that start with the chosen letters. While this is a concept book, it has a very gentle story arc that leads to a heartwarming ending.

The Ensign, Gore
Article
Crane Guy colouring sheet
Let's see all the things we can spy, high above the city with Crane Guy! Keep the kids busy with this awesome Crane Guy colouring sheet!