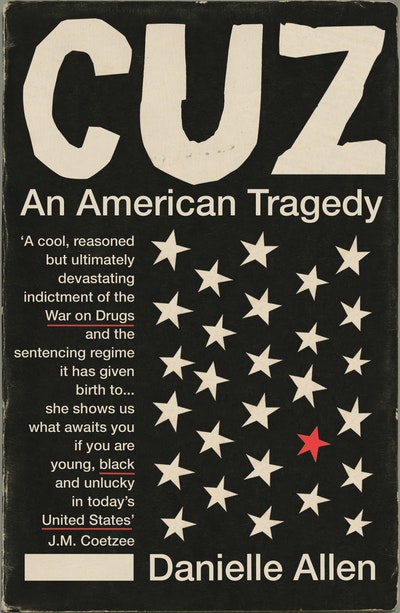 Published:

15 November 2018

ISBN:

9781784708122

Imprint:

Vintage

Format:

Paperback

Pages:

256

RRP:

$28.00
Cuz
---
---
'Unbearably moving,' Chimamanda Ngozi Adichie
The story of a young man's coming of age, a tender tribute to a life lost, and a devastating analysis of a broken system.

'Unbearably moving,' Chimamanda Ngozi Adichie
The story of a young man's coming of age, a tender tribute to a life lost, and a devastating analysis of a broken system.
Aged 15 and living in LA, Michael Allen was arrested for a botched carjacking. He was tried as an adult and sentenced to thirteen years behind bars. After growing up in prison Michael was then released aged 26, only to be murdered three years later.

In this deeply personal yet clear-eyed memoir, Danielle Allen reconstructs her cousin's life to try and understand how this tragedy came to pass. We get to know Michael himself through the eyes of a devoted relative, moving from his first steps to his first love through to the day of his arrest, his coming of age in prison, and his attempts to make up for lost time after his release. We learn what it's like to grow up in a city carved up by invisible gang borders; and we learn how a generation has been lost.

With breathtaking honesty and insight, Cuz circles around its subject, exposing it from all angles to reveal the shocking reality of a broken system. The result is a devastatingly powerful yet reasoned tribute to a life lost too soon.
Published:

15 November 2018

ISBN:

9781784708122

Imprint:

Vintage

Format:

Paperback

Pages:

256

RRP:

$28.00
What starts as a personal memoir, an effort to resurrect from oblivion a beloved cousin who died young, modulates in Allen's hands into a cool, reasoned, but ultimately devastating indictment of the War on Drugs and the sentencing regime it has given birth to. In plain terms, stripped of the jargon of the social sciences, she shows us what awaits you if you are young, black, and unlucky in today's United States.

J. M. COETZEE
The genius of Cuz lies in its willingness to accept what isn't known about Michael … Her memoir defies genre and expectation … Cuz is a literary miracle of form and content ... Allen's ambitious breathtaking book challenges the moral composition of the world it inhabits by telling all who listen: I loved my cousin and he loved me, and I know he'd be alive if you loved him, too

Kiese Laymon, Washington Post Sunday
[Cuz] will stay with you for a long time ... Moving, tender, angry, insightful, this is a damning incitement of how the system fails to treat people as humans, at how gang culture affects families, and a look at how love can blind people and have terrible consequences.

Stylist Magazine
Cuz will break your heart. Of the recent books that have done so much against such great odds to create a meaningful anti-incarceration movement in America, it may be the most compelling ... Danielle Allen brilliantly and searingly lays all of this out ...remarkable.

Jim Kaplan, The National Book Review
I can only stand in awe of Cuz's account of her, Micheal's and their family's ordeals.

Huffington Post
Allen makes way for letters Michael wrote from behind bars. You finally see Michael then. And, as Allen said, he is beautiful ... Michael is a virtuoso of a writer, and his brilliant letters chronicle his growth from boy to man in California's penitentiary system.

Greg Howard, New York Times Book Review
Allen's exceptional professional accomplishments make her latest effort, a memoir about the soul-crushing murder of her beloved younger cousin Michael, all the more stirring ... a just and moving tribute to a family member she knew incompletely, but loved unfailingly ... As a memoirist, Allen is genuinely gifted.

Los Angeles Review of Books
A compassionate retelling of an abjectly tragic story […] Among the most valuable contributions Allen makes is forcing us to ask: To what end are we locking up our children? Are we not foreclosing their options before their lives have even begun? […] Allen's analysis of gang culture […] may be where she's at her ferocious best

Jennifer Senior, New York Times
I was left stunned by it. Required reading.

Sarah Shaffi, Monocle
In this narrative of freedom and incarceration, education and disadvantage, rehabilitation and punishment, Danielle Allen paints an unforgettable portrait of a cousin she loved. The pacing is brisk and novelistic, but the message is large and clear: we need urgently to reform the system through which we process juveniles who commit crime, because the current system perpetuates the very injustices it was designed to address.

ANDREW SOLOMON
A literary and political event like Toni Morrison's Playing in the Dark, Allen's Cuz is an elegiac memoir and social jeremiad born out of the tragedy of mass incarceration. A loving cousin paying tribute to her brilliant and beloved but troubled "cuz," Allen hits a grand slam.

HENRY LOUIS GATES JR.
Allen's heartbreak gives way to a well-researched expedition. Why did this happen to a young black man from a loving family? Through memory, letters Michael wrote from prison and interviews with family members, Allen retraces his steps, filling in the parts of his life he kept hidden behind his grin ... Cuz is more than Michael's story. It's the story of ... a city where black and brown girls and boys engulfed by the crack epidemic and the rise of street gangs had no guardian angels ... In Cuz, Michael is the face of mass incarceration

San Francisco Chronicle
Allen, whose writing is creative and accessible, uses her finely tuned talent to fold Michael's fate into the gathering storms of the U.S. criminal-justice system and Los Angeles' gang-related and racial turmoil. Both a searching, personal elegy and a sure-footed lamentation of the systems meant to protect us, this is a searing must-read.

Annie Bostrom, Booklist
Powerful … A searing memoir and sharp social critique

Kirkus Review
At its heart, Allen's book is both an outcry and entreaty as she grapples with a painful reality

Publishers Weekly
Cuz is unbearably moving

Chimamanda Ngozi Adichie, Guardian