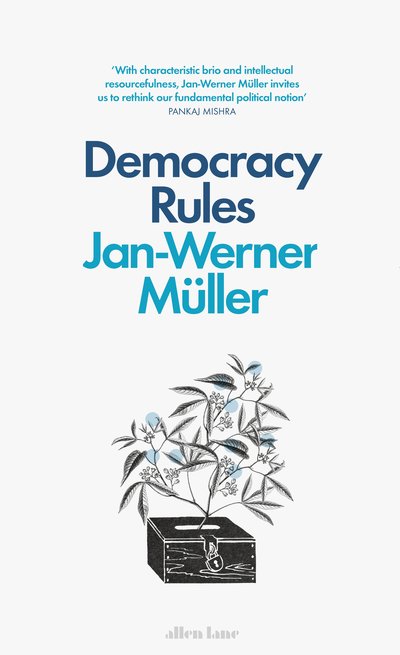 Published:

28 September 2021

ISBN:

9780241382936

Imprint:

Allen Lane

Format:

Hardback

Pages:

256

RRP:

$50.00
Democracy Rules
---
---
---
One of our most essential political thinkers offers a vital account of democracy in the twenty-first century
After the acrimony of Brexit, the shock of Trump, and the continued pull of Putin and Xi it seems that democracy is in a state of decay. And as governments around the world struggle to combat the coronavirus - often adopting draconian measures as a response - there is a sense, a panic, that democracy's decline may be terminal. But how many of us are certain about what democracy actually is?
Acclaimed political philosopher Jan-Werner Müller lucidly argues that in order for us to understand the true risks of our current moment, we must first establish an understanding of first principles. What is essential for democracy to flourish? How can we defend it without forever distorting its DNA?
In this elegant volume, he explains how democracy is founded not just on liberty and equality, but also on uncertainty. Drawing on history, art and examples from around the globe, he shows that we need to
re-invigorate political parties and free media, the institutions that have been essential for democracy's success ever since the nineteenth century. Challenging conventional wisdom, Müller suggests concretely how democracy's crucial institutions could be renovated, re-empowering citizens while also preserving a place for professionals such as journalists and judges.
Taking on many of the most difficult political questions we face, this book is a vital rethinking of what democracy can mean in an age of big data, curated news feeds, collapsing parties and social alienation - and how we can reinvent our democratic social contract.
Published:

28 September 2021

ISBN:

9780241382936

Imprint:

Allen Lane

Format:

Hardback

Pages:

256

RRP:

$50.00
Praise for Democracy Rules
With characteristic brio and intellectual resourcefulness, Jan-Werner Müller invites us to rethink our fundamental political notion. He not only defuses much apocalyptic talk about the decay of democracy in this salutary book; he alerts us to its undiminished appeal and untested possibilities

Pankaj Mishra
Erudite and urbane, but never condescending or ponderous, Jan-Werner Müller has been the greatest theoretician of what is happening to democracy in our time. Saving democracy, he proposes, requires knowing what it is first, and attending to its infrastructure. Never complacent, and never despairing, this book survives the wreckage of prognostications of democracy's death and doom in the populist era

Samuel Moyn
In this brilliant book, Jan-Werner Müller imagines a democratic politics that is fluid, creative, messy, and dynamic in defining who we are as a people and offering a path forward

Ro Khanna
A superb work of democratic theory, passionately argued and elegantly written

Ivan Krastev
Democracy Rules captures the essence of our political moment. It clarifies the fundamental features of modern democracy and populism - following its arguments from the US to India. It is engaging and engaged, without ever being partisan. It is based on deep academic learning, but its arguments are clear, principled, and accessible. It makes a profound moral case that should matter to all our politicians and citizens today. This is political thought at its best

Rory Stewart
Few people are as well-equipped as Jan-Werner Müller to assess today's heated debates about democracy with a judiciousness deeply informed by history, international politics and social science. With unerring realism he examines the critical conditions necessary for democracies to function, reminding us of the essential role played by intermediary institutions such parties, the idea of the loyal opposition, and the free press. This realism is at the heart of his fundamental prescription; while we may not have grounds for optimism, we must find a sound basis for hope

Tamsin Shaw
In elegant and incisive terms, Democracy Rules makes clear that proponents of liberal democracy must reclaim fundamental democratic principles and values

G. John Ikenberry, Foreign Affairs
As a learned political observer, Jan-Werner Müller crosses many borders. He writes for the academy and the broader public. As a German teaching at Princeton University, he understands Europe and the US. He is at ease with data-minded social science, the history of ideas and political philosophy. . . With breadth of view go clarity and economy. His books are usually brisk and to the point

Edmund Fawcett, Financial Times
Lively. . . This is one of those rare books about a pressing subject that reads less like a forced march than an inviting stroll . . . A book that encourages thinking, observation and discernment

Jennifer Szalai, The New York Times
My first holiday book is Jan-Werner Müller's Democracy Rules, an extraordinarily timely investigation of what is happening to our increasingly fragile democracies, from the US to India. It is learned but clearly written, and always intelligent, open-minded and morally engaged

Rory Stewart, The Times
One of the most notable Western voices on the subject of populism. . . Müller is not an alarmist. . . he seeks to recover the 'spirit' of democratic politics

Michael Burleigh, Literary Review
Compelling. . . a welcome return to democratic first principles. . . the merit of Müller's book is to restate them with admirable clarity

Adrian Pabst, Prospect
Müller has established himself as a subtle and wide-ranging thinker on matters of governance. His book promises to make sense of the present political moment and its substantial dangers. . . and offers a robust defence of democracy. . . engaging and substantial

Lawrence Douglas, TLS