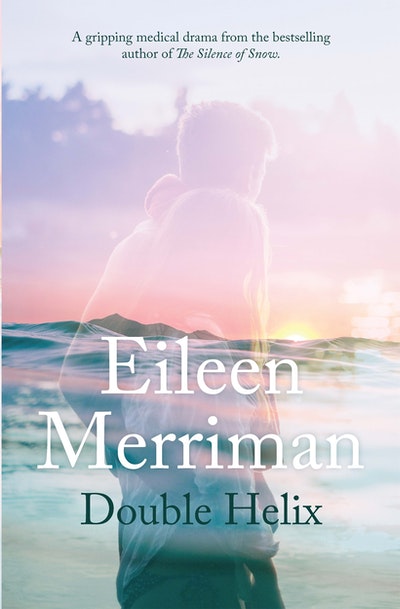 Published:

31 August 2021

ISBN:

9780143775201

Imprint:

RHNZ Black Swan

Format:

Trade Paperback

Pages:

368

RRP:

$36.00
Double Helix
---
---
---
A gripping new medical drama from the bestselling author of The Silence of Snow.
Would you want to know what awaits you? Would you want to be in control of your life . . . and death? What would you do for love?
'Sooner or later, willingly or unwillingly, he's going to leave you.'
The words cut deep. Emily knows Jake is not like his father; he'd never leave her willingly. But if he has inherited his mother's genes, then Huntington's disease is more than likely to take him away. He may even make the same request his mother made, when Jake was still a teenager: to end the suffering for good.
Published:

31 August 2021

ISBN:

9780143775201

Imprint:

RHNZ Black Swan

Format:

Trade Paperback

Pages:

368

RRP:

$36.00
I devour Eileen Merriman's Double Helix in two sittings. Her ability to build characters and complex issues cuts deep and sticks.

Paula Green, Newsroom
This third story for adult readers, Double Helix, will draw in adolescent audiences as well: the relationships, protagonists and narrative direction should appeal across several age groups. . . . Maurice Gee wrote once that his YA fiction was "horizontal", ie, the story took precedence over character depth or stylistic invention. This is also true of Double Helix, though Merriman makes a more than competent job of forming her people, primary to tertiary. You'll be convinced by Jake and Emily, individually and together. You'll recognise (with a smile or a shudder) some of the hospital walk-ons. . . . Things swing along, and around through time, with just the faintest occasional whiff of Harlequin Romance tropes. She writes with clarity and confidence . . . an energetic, often affecting story.

David Hill, NZ Listener
It's a timely novel - assisted dying becomes legal in New Zealand in a mere few months - and raises, in fictional form, the difficult ethical conundrums facing doctors, patients, and families. If you enjoy playing hypothetical "what would I do if…" mind games, then this is the book for you. It's an emotional rollercoaster, with Jodi Picoult-esque twists and turns in the plot that I didn't see coming – and some I did but was still winded by. Have a box of tissues on hand. . . . Her books ring with authenticity. This is someone who knows what it was like to be a young med school graduate starting out in a busy hospital.Merriman writes medical dramas extremely convincingly. Double Helix is the second of her novels that I've read with young medical professionals as the central characters. I read The Silence of Snow last year and was incredibly moved. It was a novel that haunted me long after I finished it. She paints the medical profession as so very complex, problematic, and emotionally challenging. . . . As well as being a gripping medical drama, Double Helix is a very New Zealand story. . . It feels genuine and not at all gratuitous. It's fantastic to see New Zealand fiction maturing in this way. More, please. . . . This is a powerful book on many different levels – an entertaining and quite adorable love story, a riveting medical drama, and a thought-provoking dive into contemporary ethical issues.

Tiffany Matsis, Newsroom
Romance, drama and dilemma are the beating pulses of this medical novel. Set between Dunedin, Northland and Melbourne, it is the story of a couple with a secret in their past and uncertainty in their future. . . . The story zips back and forth along the spectrum of their relationship, posing lots of ethical questions as it goes. . . . The subject matter may be heavy, but Eileen Merriman's writing style is never too weighty. She writes lively and emotional prose, a pacey story and engaging characters. . . . A thought-provoking read with a twist that I'm pretty sure you won't see coming.

Nicky Pellegrino, NZ Woman's Weekly
A medical drama out of the top draw for young adults and adults. As is the case of all Eileen Merriman's novels medical ethics and practice are at the heart of it all which makes the novels such powerful reading. . . . The timebomb within Jake and a dark secret between Jake and Emily underline their lives. Is the double helix of DNA going to dominate their lives together or are other forces going to predominate? Read it and find out. . . . Compelling reading from a novelist at the top of her game.

Bob Docherty, bobsbooksnz
But more than a medical story, this is a human story which chronicles the personal and relational issues involved with this hereditary disease. Developing a life of one's own, as well as the ebbs and flow of a relationship are realistically conveyed, both Jake and Emily experiencing miscommunication, difficulties with their fathers, changing perceptions about where their working lives are leading and sharing a secret that is theirs alone. Also there is the pressure, the anxiety and uncertainty, the shadow that Huntington's disease casts on Jake's life while they both endeavour to live each day as it happens. . . . All these [previous books] attest to her ability to create characters that live, breath, think and react as real human beings that readers can believe in. Double Helix also demonstrates her story telling skills with unpredictable twists, both small and one large, to the story! . . . And for the reader the novel raises so many questions, not only about the problems and difficulties posed by an inherited disease but also about how an individual can deal with the known landscape of the past and the unknown landscape of the future within the present moment.

Clare Lyon, NZBooklovers
One of the 10 best novels of 2021. . . The latest novel by Auckland writer (and doctor) Eileen Merriman is a love story and a tearjerker and a blazingly topical examination into assisted dying.

Steve Braunias, Newsroom
This is a promising addition to the ethical questions novel genre . . . The ethical dilemma make for a good storyline, but there are other events going on throughout the novel as well. It's an easy read, well constructed and suitable for young adults too.

Linda Thompson, Rotorua Weekender
Article
5 books to take to the beach this summer!
Summer is a great time to catch up on prizewinners from the previous 12 months, return to old favourites or for a bit of personal development. Here are our top five suggestions.
Article