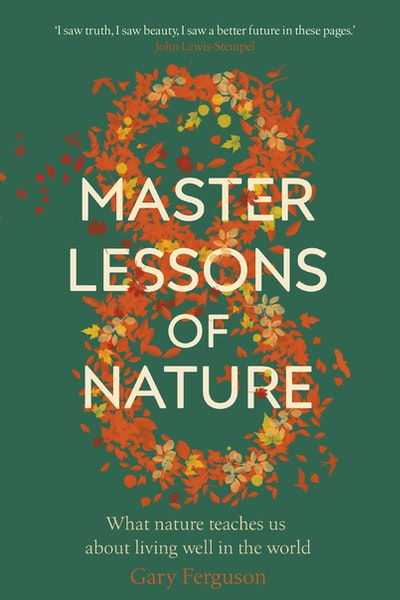 Published:

31 October 2019

ISBN:

9781473558441

Imprint:

Transworld Digital

Format:

EBook

Pages:

272
Eight Master Lessons of Nature
---
---
---
A rich and gentle manifesto of how to forge vital and meaningful connections with nature and what the natural world can teach us about human life.
The natural world contains a rich a supply of wisdom. Drawing on art and science, flora and fauna, history and philosophy, Gary Ferguson gives us the context for eight lessons for a better life:
1) Open up to the mystery of the natural world. Reclaim your sense of wonder and gratitude.2) We coexist with nature. By understanding our interdependence we are able to maintain the balance of our environment. 3) There is strength in diversity. In both humans and nature, a more diverse environment is a stronger environment. 4) Feminine rules. In nature, females are not just celebrated for their reproductive qualities; they are leaders, protectors, providers and caregivers. Humans should acknowledge and learn from this.5) Anthropomorphising is wrong. We are moulded in nature's image, not them in ours.6) Nature is supremely efficient. It does not waste time, energy or resources, for our physical and mental well-being we should mimic these qualities.7) Rise up from the ashes. Even in the wake of destruction life is able to recover, to thrive and return stronger. We can learn from nature's resilience.8) Learn from your elders. Wisdom is stored in our elder generations, seek it out and pass it on.
Published:

31 October 2019

ISBN:

9781473558441

Imprint:

Transworld Digital

Format:

EBook

Pages:

272
Praise for Eight Master Lessons of Nature
A bold peacock of a book, bristling with life, seriously stimulating and written poetically and crisply. I think it's a classic.

Sir Tim Smit KBE, Executive Vice-Chairman and Co-founder of the Eden Project
I saw truth, I saw beauty, I saw a better future in these pages.

John Lewis-Stempel
It's hard to put down the phone and pay attention to the larger world—but as this insightful book makes clear, that kind of attention to the natural world can help set us on better paths for our lives, our societies, and our futures.

Bill McKibben, Environmentalist and author of The End of Nature
This beautiful book will make your genes ache with homesickness for the mystery we sprang from. Luckily, it's waiting right outside. Let Gary Ferguson take you there. You'll remember, and you'll thank him.

Alan Weisman, author of The World Without Us
In this expansive survey, nature writer Ferguson argues that nature's 'harmony, balance, and rhythm' can teach humans how to live peaceful, vital lives. Ferguson's eight assertions each speak to the powerful connections he sees between the natural and human worlds, each beginning with his lushly delivered observations of nature.

Publishers' Weekly
A mellow, meditative book for nature lovers and those who want to reconnect with the world around them.

Kirkus Reviews