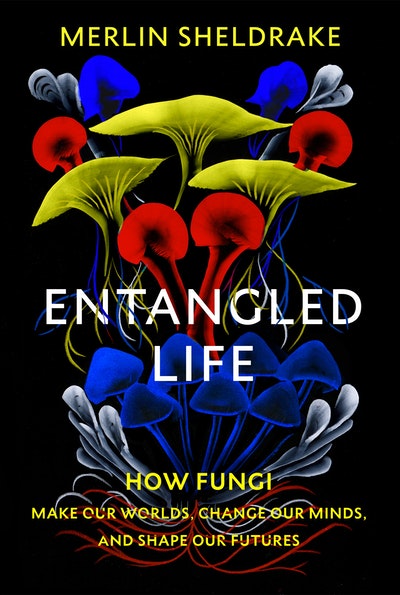 Published:

21 July 2020

ISBN:

9781847925206

Imprint:

Bodley Head

Format:

Trade Paperback

Pages:

368

RRP:

$40.00
Entangled Life
How Fungi Make Our Worlds, Change Our Minds and Shape Our Futures
---
---
---
An otherworldly literary-scientific adventure for readers of Ed Yong and Other Minds
There is a life form on our planet so strange and wondrous that it challenges our conception of life itself…
Entangled Life introduces an almost wholly unknown and mysterious category of life form, an entire underground realm whose workings are so wondrous and alien that they throw into question what we think life itself is and how it works.
At times it is microscopic; yet it also forms the largest single organism in existence, covering ten square kilometres, weighing 35,000 tons and estimated to be 2,400 years old. It thrives underground but is also in the air we breathe and is capable of moving at 100 kilometres an hour. It is the first life-form to have appeared on land, lives everywhere – including within our bodies – and offers life-saving medicines. It is the only life form able to decompose wood and plastic. It solves problems and makes decisions. It defies all the normal categories of selfhood and identity, existing as much between other organisms as on its own terms.
In this unique, literary-scientific adventure, Merlin Sheldrake introduces us to fungi, a life-form intimately entangled with our own.
Published:

21 July 2020

ISBN:

9781847925206

Imprint:

Bodley Head

Format:

Trade Paperback

Pages:

368

RRP:

$40.00
Praise for Entangled Life
A dazzling, vibrant, vision-changing book. Sentence after sentence stopped me short. I ended it wonderstruck at the fungal world – the secrets of which modern science is only now beginning to fathom – and the earth-shaking, hierarchy-breaking implications of Sheldrake's argument. A remarkable work by a remarkable writer

Robert MacFarlane, author of Underland
One of those rare books that can truly change the way you see the world around you, Entangled Life is a mercurial, revelatory, impassioned, urgent, astounding, and necessary read. It's fearless in scope, analytically astute, and brimming with infectious joy

HELEN MACDONALD, author of H is for Hawk
Entangled Life is a revelation. It is a radical, hopeful and important book and I couldn't put it down. With elegance, wit and clarity Sheldrake engages us in the hidden world of fungi, a miraculous web of connections, interactions and communication that changes the way we need to look at life, the planet and ourselves

ISABELLA TREE, author of Wilding
A true masterpiece, a thrilling and fascinating insight into the living world, beautifully written, entertaining, funny and inspiring, while representing the science carefully and responsibly. I hope and trust that it will become an instant classic

GEORGE MONBIOT
Reading this book, I felt surrounded by a web of wonder. The natural world is more fantastic than any fantasy, so long as you have the means to perceive it. This book provides the means

JARON LANIER, author of Ten Arguments for Deleting Your Social Media Accounts Right Now
Sheldrake's charm and curiosity makes for a book that is delightful to read, but also grand and dizzying in how thoroughly it recalibrates our understanding of the natural world, and the often-overlooked organisms within it

ED YONG, author of I Contain Multitudes
A magical journey deep into the roots of Nature. Merlin is an expert storyteller, weaving the tale of our co-evolution with fungi into a scientific adventure. Entangled Life is a must read for citizen scientists hoping to make a positive difference on this sacred planet we share

PAUL STAMETS, author of Mycelium Running
It is impossible to put this book down. Entangled Life provides a window into the mind-boggling biology and fascinating cultures surrounding fungal life, as well as fungi's innumerable uses in materials, medicine and ecology. Sheldrake asks us to consider a life-form that is radically alien to ours, yet vibrant and lively underfoot

HANS ULRICH OBRIST
Fungi are everywhere, and Merlin Sheldrake is an ideal guide to their mysteries. He's passionate, deeply knowledgeable and a wonderful writer

ELIZABETH KOLBERT, author of The Sixth Extinction
I was completely unprepared for Sheldrake's book. It rolled over me like a tsunami, leaving the landscape rearranged but all the more beautiful

NICHOLAS HUMPHREY, Emeritus Professor of Psychology, LSE, author of Soul Dust
Unputdownable, this extraordinary work explores the awesome range of activities of fungi: enabling the first life on land; interacting in countless ways with other life forms; shaping human history and potentially safeguarding our future. At once rigorously scientific and boldly imaginative, it raises fundamental questions about the many natures of life on Earth

NICK JARDINE, Emeritus Professor of History and Philosophy of Science, University of Cambridge
This is an adventurous and indeed daring book, opening several unfamiliar micro-domains in the organic life world and its multiple connections. There is much to be learned in this wide field, and this vivid, scrupulous guide points the way

J. H. PRYNNE
Entangled Life is a remarkable book that manages to be at once scholarly, visionary and a deeply engaging and enjoyable read. It provides a new and penetrating analysis of the fungal kingdom of life that will be a greatly enriching read for all students of the living world

Dr IAN HENDERSON, Lecturer in Plant Sciences, University of Cambridge
A triumph and a thing of vast beauty

TOM HODGKINSON, The Idler
This engaging book shines light on the hidden fungal connections that link plants, trees, and us. Sheldrake is a rare scientist who is not afraid to speculate about the truly profound implications of his work. A very good read

ANDREW WEIL, author of True Food