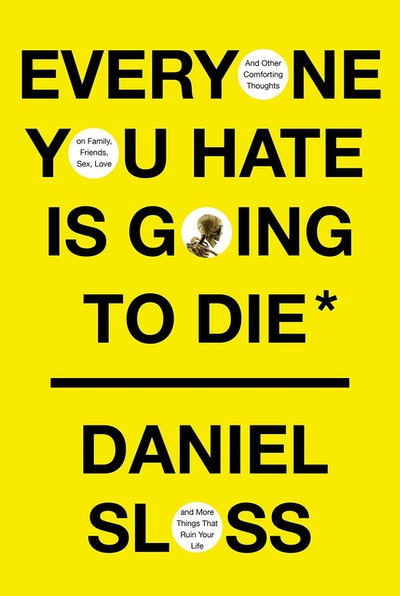 Published:

19 October 2021

ISBN:

9781785152566

Imprint:

William Heinemann

Format:

Hardback

Pages:

272

RRP:

$40.00
Everyone You Hate is Going to Die
And Other Comforting Thoughts on Family, Friends, Sex, Love, and More Things That Ruin Your Life
---
---
---
In the first book from one of this generation's hottest and boldest young comedians, Daniel Sloss presents a transgressive and hilarious analysis of all of our dysfunctional relationships, and attempts to point us in the vague direction of sanity.
Daniel Sloss engages, enrages, comforts, and gets audiences roaring with laughter. In his irreverent Netflix and HBO specials, he has tackled everything from male toxicity and friendship to love, romance and marriage. Sloss proudly claims that his brutally honest dissection of relationships on-stage has single-handedly caused more than 300 divorces and 120,000 breakups.
Now, in his first book, he picks up where his specials left off, and goes after every conceivable kind of relationship - with one's country (Sloss's is Scotland); with America; with lovers, ex-lovers, ex-lovers who you hate, ex-lovers who hate you; with parents; with best friends (male and female), not-best friends; with children; with siblings; and even with our own mortality.
In Everyone You Hate Is Going to Die, every human connection gets the mercilessly funny Sloss treatment as he illuminates the ways in which all of our relationships are fragile and ridiculous and awful - but also valuable and meaningful and important.
Published:

19 October 2021

ISBN:

9781785152566

Imprint:

William Heinemann

Format:

Hardback

Pages:

272

RRP:

$40.00
Praise for Everyone You Hate is Going to Die
This is the Pandora's Box of self-help books.

Conan O'Brien
What a book. It's smart, acerbic, and incredibly funny. I suggest you read it.

Bob Saget
The only thing wrong with this book is that at my age everyone I hate is already dead.

Peter Bart
[Sloss is] dirty, sweet and clever.

Elise Czajkowski, The New York Times
He tells jokes that are transgressive, that are shocking, that are dark enough to emphasize that he's not some kind of pious, soggy, joyless hector.

Sophie Gilbert, The Atlantic
His bits teem with curse words, wicked daydreams...But the slapstick is a preamble: Sloss's signature move is a pivot to vulnerability.

Eren Orbey, The New Yorker
Sloss offers insights on toxic masculinity, gender and sexuality that are at once deliciously dark, hilarious and profound.

Debbie Hall, Daily Record
Everyone You Hate... turns out to be a very enjoyable read, unsurprisingly. Written in the rhythm of a seasoned comedian's set, there are laughs liberally sprinkled, serious bits with elements of self-examination, and the impression that each carefully placed word has simply come to him in conversation. Just like any good Edinburgh show.

Vicky Nangle, Beyond The Joke