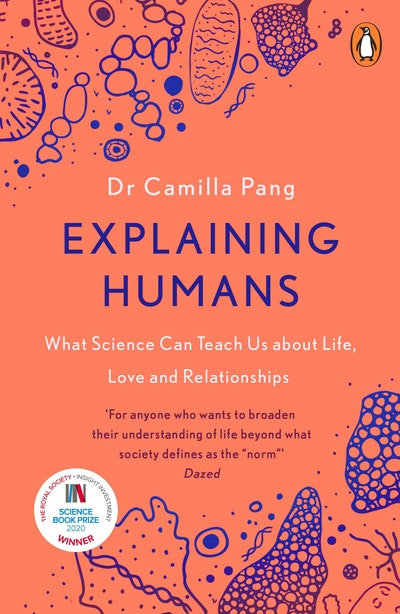 Published:

1 June 2021

ISBN:

9780241987117

Imprint:

Penguin General UK

Format:

Paperback

Pages:

256

RRP:

$26.00
Explaining Humans
Winner of the Royal Society Science Book Prize 2020
---
---
How proteins, machine learning and molecular chemistry can teach us about human behaviour
WINNER OF THE ROYAL SOCIETY INSIGHT INVESTMENT SCIENCE BOOK PRIZE 2020
How do we understand the people around us? How do we recognise people's motivations, their behaviour, or even their facial expressions? And, when do we learn the social cues that dictate human behaviour?
Diagnosed with Autism Spectrum Disorder at the age of eight, Camilla Pang struggled to understand the world around her and the way people worked. Desperate for a solution, Camilla asked her mother if there was an instruction manual for humans that she could consult. But, without the blueprint to life she was hoping for, Camilla began to create her own. Now armed with a PhD in biochemistry, Camilla dismantles our obscure social customs and identifies what it really means to be human using her unique expertise and a language she knows best: science.
Through a set of scientific principles, this book examines life's everyday interactions including:
- Decisions and the route we take to make them;
- Conflict and how we can avoid it;
- Relationships and how we establish them;
- Etiquette and how we conform to it.
Explaining Humans is an original and incisive exploration of human nature and the strangeness of social norms, written from the outside looking in. Camilla's unique perspective of the world, in turn, tells us so much about ourselves - about who we are and why we do it - and is a fascinating guide on how to lead a more connected, happier life.
_____________
'Unveiling hidden complexities of human behaviour, this book navigates a mind-bending topic with incisiveness and lucidity' David Lammy, Labor MP for Tottenham, author of Tribes
Published:

1 June 2021

ISBN:

9780241987117

Imprint:

Penguin General UK

Format:

Paperback

Pages:

256

RRP:

$26.00
Praise for Explaining Humans
This book is truly exceptional. Applying science to the problems of human relationships, the perils of perfectionism and the pitfalls of social etiquette, Millie has written a joyous, funny and hugely insightful text for all of us - whether neurotypical or neurodiverse. This 'Outsiders Guide to the Human Race' is warm, witty and a joy to read.

Gina Rippon, cognitive neuroscientist/autism researcher and author of 'The Gendered Brain'
Thoughtful, incisive and important: this is a must-read for an accessible education in human understanding. It blew my mind!

Laura Jane Williams, author of 'Our Stop' and 'Becoming: Second Sex, Second Chances, and Figuring Out Who the Hell I Am'
This vital memoir illuminates the power of being on the autism spectrum

The Times
Whether neurodiverse or neurotypical, Pang's witty account is a must-read for anyone who wants to broaden their understanding of life beyond what society defines as the 'norm'

Dazed
Camilla's book is an accessible guide to scientific concepts that is humorous and engaging

BBC Science Focus
A scientific blueprint of human nature and all its bizarre social norms

Bustle
An easy-to-read part-memoir, part-explanation of why humans are the way they are and what we can learn from it

Refinery29
Unveiling hidden complexities of human behaviour, this book navigates a mind-bending topic with incisiveness and lucidity

David Lammy, Labour MP for Tottenham, author of 'Tribes'