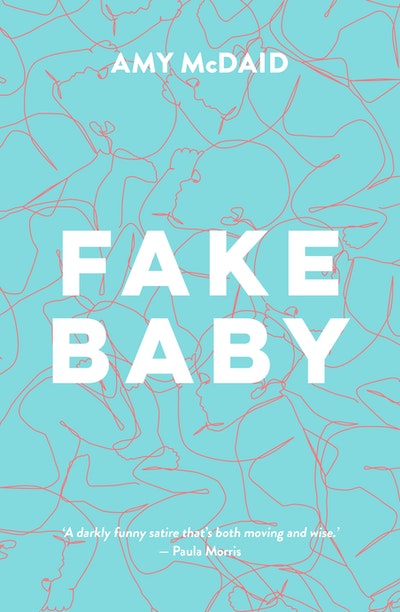 Published:

2 June 2020

ISBN:

9780143774631

Imprint:

Penguin

Format:

Trade Paperback

Pages:

304

RRP:

$36.00
Fake Baby
---
---
---
Dark humour from an exciting new novelist.
Fake Baby is a tender and funny exploration of the power of words, our perception of resilience and what it means to be real.
Nine Days.
One City.
Three Oddballs.
Stephen's dead father is threatening to destroy the world. If Stephen commits the ultimate sacrifice and throws himself into the harbour, he will save humanity. The last thing he needs is a Jehovah's Witness masquerading as a schoolboy and an admission to a mental health facility.
*
Jaanvi steals a life-like doll called James and cares for him as if he were her dead baby. Her husband demands she return him. But she and James have already bonded, and it's nobody's business how she decides to grieve.
*
Lucas, pharmacist and all-round nice guy, is having one of the worst weeks of his life. His employees forgot his birthday, his mother's gone manic, and now his favourite customer is in hospital because of a medication error he made. Can he make things right? Or is life all downhill after forty?
'A darkly funny satire that's both moving and wise.' - Paula Morris
Published:

2 June 2020

ISBN:

9780143774631

Imprint:

Penguin

Format:

Trade Paperback

Pages:

304

RRP:

$36.00
I'm just blown away by this book . . . it was highly entertaining and it made me cry . . . it also made me giggle, it made me laugh and smile and I think her writing is so well put together, it's so beautiful, so I'm very excited by this book . . . ten out of ten, it's a cracker.

Louise Ward, Radio Kidnappers
Such a wry, dry-humoured book while navigating really intense insights into mental health and medical systems in New Zealand. I just really enjoyed it, I thought it was great . . . I just love reading comedy in New Zealand fiction and this is it. . . Great cover, great book.

Jenna Todd, Loose reads 98bFM
Through honing in on the details of these characters, she finds a beautiful profundity in these comparatively small, personal tragedies. McDaid writes of the "unloved life, of which one can die", and all three characters have had their unloved lives. By the end of Fake Baby, she's also shown us, with delicate detail and real generosity, the truth that even a small kindness, a silent memorandum of care and understanding, can lift someone up above the surface, even for just one more day. It's those daily kindnesses that build up to a life loved, and finally, a life lived.

Sam Brooks, The Spinoff
There's a ton of insight and authenticity here. . . . Did I mention it's funny? That gets a giant tick for me. You can feel the author not quite able to resist her chafings, characters being rude about drivers using mobile phones, The Chaser, Facebook obsessives, grammar. I agreed entirely. The novel is fascinated with word play, and the text bubbles with references to random fascinations like spontaneous combustion and whether women in burkas wear nice lingerie. And there are splendid lines.

Mark Broatch, ANZL
Full of drama, fervent acts, eccentrics, and missed opportunities, Fake Baby would make a great film. Auckland encroaches on the characters as they move between the urban and the rural, between shops and cafes, beaches and lonely public toilets. This is a great, entertaining read, and in addition, it is a relief that not all lives operate at such a high level of constant jitter, where all seemed poised in their nerviness to topple over into another, even scarier, realm.

Jessie Neilson, Otago Daily Times
The book is a tender and funny exploration of the power of words, our perception of resilience and what it means to be real.

Northland Age
This book may be her debut novel but, by the looks of things, it definitely won't be Amy McDaid's last. Telling a darkly humourous and twisted tale, Fake Baby focuses on three 'oddball' characters

Eastlife
Fake Baby is a snapshot, it starts at a random time and ends similarly, with characters mid-journey. It sounds like a depressing read, but although incredibly sad it is also very human, there is a glimmer of optimism running through it, and it is not without humour. I was intrigued by some of the elements in the book - I looked up 'reborns', they really are a thing – and well-portrayed is how easily our communities, both small and large, can be fractured, leaving us adrift and not feeling real anymore. A great read.

Alyson Baker, Nelson Public Libraries
The NZSA New Zealand Heritage Literary Awards
Shortlisted • 2021 • NZSA NZ Heritage Literary Award