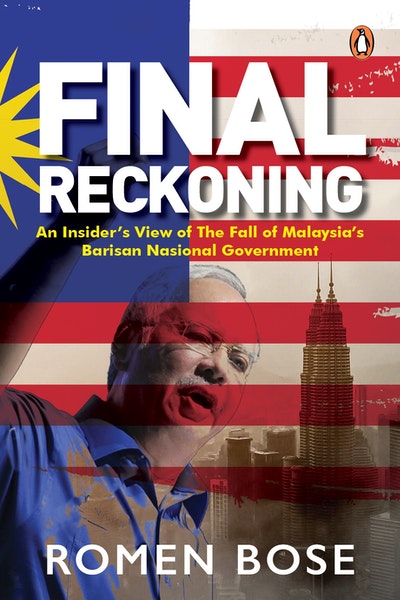 Published:

14 December 2021

ISBN:

9789814954549

Imprint:

PRH SEA

Format:

Hardback

Pages:

288

RRP:

$37.00
Final Reckoning
An Insider's View of The Fall of Malaysia's Barisan Nasional Government
---
---
An unparalleled political blockbuster of intrigue, disaster, incompetence and the biggest financial scandal the world has ever seen.

From the innermost sanctum of the Prime Minister's private offices among the Minaret-studded buildings of Putrajaya to streets filled with tear-gassed protestors in downtown Kuala Lumpur, Romen Bose, a former international correspondent and political communications consultant to then Prime Minister Najib Razak, provides a gripping and engaging true story of drama, intrigue, violence and incompetence that finally ended the rule of Malaysia's sixty-one year old Barisan Nasional Government in May 2018.
With a front-row seat to the major controversies that hit the Najib Razak administration, Romen reveals for the first-time how the country's leadership reacted to the disappearance of MH370 and the still classified covert moves to retrieve the remains of Malaysian victims following the shooting down of MH17.
Final Reckoning also gives a blow-by-blow account of how the 1MDB scandal rocked the Government and the attempts by the country's top politicians and their advisers to contain and explain it away. Through numerous conversations with key players and his presence at various top secret meetings amid the global investigations into the scandal, Final Reckoning pieces together how a sitting Prime Minister became, Najib claims, 'the fall guy' for a mastermind who had managed to pull off the single biggest con of the century. In doing so, Final Reckoning tells the story of an ultimately futile scramble to try and preserve a crumbling political legacy that had long been out of step with the realities of a new Malaysia.
This book is the story of the wild roller-coaster ride that marked the Barisan Nasional Government's rule, from the 2013 General Elections, until its 61-year-old hold on power came to an end on the night of 9 May 2018.
Published:

14 December 2021

ISBN:

9789814954549

Imprint:

PRH SEA

Format:

Hardback

Pages:

288

RRP:

$37.00
Praise for Final Reckoning
'While not all Asian governments are alike, of course, none may rival Malaysia's in bizarre singularity. A spectacular story of political betrayal and the fall of Datuk Seri Najib Tun Abdul Razak's Government. What really happened? Former Razak aide Romen Bose tells his inside story not only with verve, authority and the laser eye of a journalist but with the knowing speed of the smart screenwriter.'

Clinical Professor Tom Plate, author of the Giants of Asia book quartet, Loyola Marymount University's Distinguished Scholar of Asian and Pacific Affairs and the Pacific Century Institute's vice president.