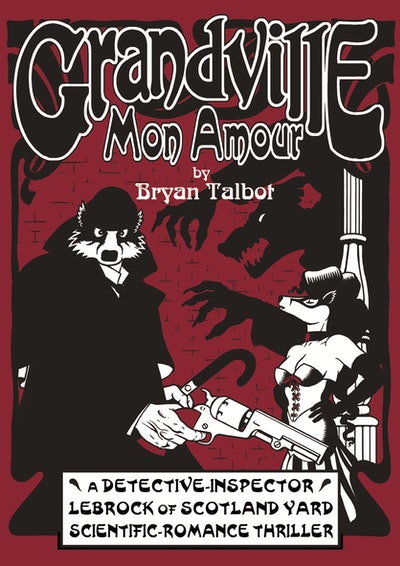 Published:

24 December 2012

ISBN:

9781473557826

Imprint:

Vintage Digital

Format:

EBook

Pages:

104
Grandville Mon Amour
---
---
The eagerly awaited new novel in Bryan Talbot's acclaimed steampunk graphic novel series, following the heroic Detective Inspector LeBrock.
The Badger is back! Set three weeks after the finale of Grandville, Grandville Mon Amour pits Detective Inspector Archie LeBrock of Scotland Yard against an old adversary and ruthless urban guerrilla, Edward 'Mad Dog' Mastock, - a psychotic serial killer whose shocking escape from his execution by guillotine at the Tower of London begins this fast-paced, Hitchcockian steampunk thriller.
LeBrock, still racked by remorse for his failure to prevent the death of 'the Divine Sarah' and working outside the law after resigning his post following a blazing row with his superior officer, embarks on a quest to redeem himself by tracking down Mastock and bringing to an end his horrific murder spree. Aided by his adjunct and old friend, Detective Roderick Ratzi, he follows the trail of carnage to Paris. Otherwise known as Grandville, it's the largest city in a world dominated by France, a city used to violence following the years of terrorist bombings by the extreme fanatic wing of the British resistance during the occupation, the notorious Angry Brigade, of which Mastock was the sadistic leading light. With his customary tenacity, LeBrock stalks his prey through a world populated by anthropomorphic animals, an underclass of humans and automaton robots where advanced steam technology powers everything from hansom cabs to iron flying machines. It's a trail that leads to the demimonde of Parisian prostitution and an atrocity perpetrated twenty-three years ago.
With a range of new and fascinating characters and a mix of Holmesian deduction, knowing humour and edge of the seat action, Grandville Mon Amour continues the vein of high-octane adventure begun in the first volume. Can even LeBrock escape the past or do heroes have feet of clay? Follow the badger!
Published:

24 December 2012

ISBN:

9781473557826

Imprint:

Vintage Digital

Format:

EBook

Pages:

104
Praise for Grandville Mon Amour
Talbot's storytelling, as well as his draughtsmanship, has grown steadily more assured and subtle... For over a century children have loved getting a Rupert or Beano annual as part of the season's largesse. This year a lot of grown-ups should feel similar delight when Grandville Mon Amour turns up under the tree.

Michael Moorcock, Guardian
I've never made a secret of my belief that Bryan Talbot is a genius – if you don't know his brilliant graphic history book, Alice in Sunderland, you should buy it immediately – so I was always going to like Grandville Mon Amour. Even so, my passion for it took me by surprise: I can safely say that this is, by several miles, my favourite graphic novel of the last 12 months.

Rachel Cooke, Observer