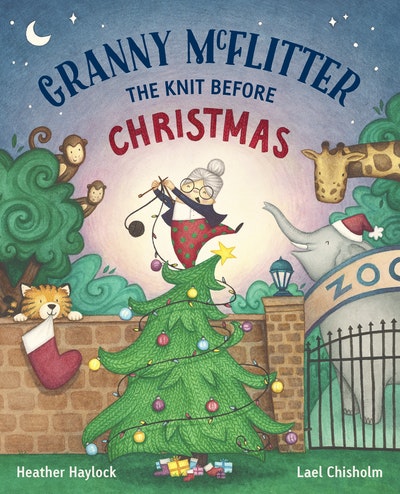 Published:

5 October 2022

ISBN:

9780143775829

Imprint:

Picture Puffin

Format:

Paperback

Pages:

32

RRP:

$21.00
Granny McFlitter: The Knit Before Christmas
---
---
Fast-knitting Granny McFlitter is CRAFTIER THAN EVER in this award-winning Christmas story by Heather Haylock and Lael Chisholm.
Granny McFlitter is back to save Christmas at the zoo, one lightning-quick stitch at a time!
'Twas the night before Christmas and down at the zoo,
the keepers were ready; the animals, too...'
All of a sudden there's a commotion - who has unravelled the animals' stockings? With Santa arriving any moment, the zookeepers call on a champion knitter for a Christmas Eve miracle!
Can Granny McFlitter pull one — or should we say, purl one — out of her knitting bag?
A delightfully knotty and knitty festive tale from the award-winning creators of Granny McFlitter.
SCBWI Recommended Reading LIst 2022
Storylines Notable Picture Book Award
Read all the Granny McFlitter books by Heather Haylock and Lael Chisholm!
Granny McFlitter, the Champion Knitter
Granny McFlitter: A Country Yarn
Published:

5 October 2022

ISBN:

9780143775829

Imprint:

Picture Puffin

Format:

Paperback

Pages:

32

RRP:

$21.00
Praise for Granny McFlitter: The Knit Before Christmas
Kids will enjoy having the book read aloud to them (especially by their grandmothers) with all the rhyme and rhythm. And they'll love investigating the magical scenes Lael has drawn for them. Will make a great Christmas present to be unwrapped at bedtime on Xmas night.

Maria Gill, Kids Books NZ
Check this fabulous picture book out and see what happens. Heather Haylock's clever rhyming text is enhanced by Lael Chisholm's colourful expressive illustrations that feature animals from the zoo, a Tufted Tweetlebird and multiple balls of wool. I loved the knitting needles in granny's hair bun and the giraffe with a square bend in his neck. Lots to look at. Great as a Christmas present for pre school and junior readers.

Bob Docherty, Bob's Book Blog
Knit one, purl one for good read. Granny McFlitter, that excellent knitter, is here to save Christmas. The zoo is all decorated for Christmas with Granny's handmade tinsel and stockings when a Christmas Eve disaster happens. All the decorations are ruined and the damage traced to the Christmas tree where a rare bird has grabbed them all to line its nest. What to do? Granny McFlitter comes to the rescue. Lovely rhyming verse makes this a nice story to read.

Ann Kilduff, Hawke's Bay Weekend
When customers ask for a great, entertaining tale I will often reach for Granny McFlitter The Champion Knitter – language rich and full of fun as the family try to find a solution for Granny's incessant knitting! A New Zealand story with a New Zealand solution! Now Granny features in the new Christmas story and her knitting is set to meet another need...Sure to be a firm favourite for Christmas this year!

Sue's Reviews, Wairarapa Times-Age
My Ma, being a self-confessed nutty-knitter, bought herself a copy of this book and had the following to say…"I love Heather Haylock's Granny McFlitter books. As a granny and a knitter it's great to have stories like these to read to your grandies. This latest one is such fun, totally bonkers. And Lael Chisholm illustrates up a storm. I wish I could knit as fast as Granny McFlitter."

The Sapling
Not only is this a great book for libraries, but it's also one which will undoubtedly be lovingly shared by grandparents and their grandchildren, especially those who can knit!

Nadine Molloy, Read NZ - The School Library
Another charming tale about the Granny who is nifty at knitting from local author Heather Haylock, and illustrator Lael Chisholm. Can Granny Mcflitter prevent a disaster at the zoo on Christmas Eve? Snug and joyful for the festive season.

Unity Books Children's Bestsellers, The Spinoff
Storylines Notable Book Award
Awarded • 2022 • A Storylines Notable Picture Book