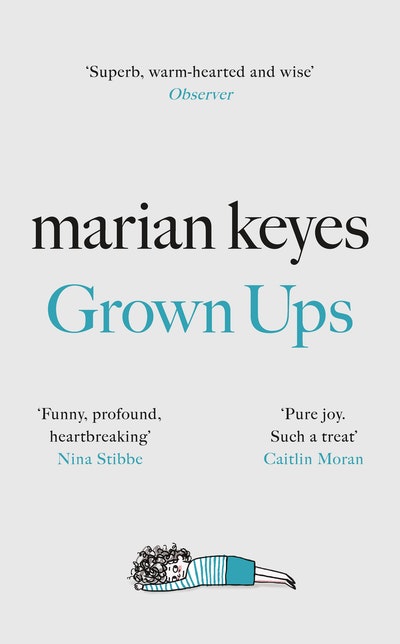 Published:

6 February 2020

ISBN:

9780718179748

Imprint:

Michael Joseph

Format:

Hardback

Pages:

656

RRP:

$55.00
Grown Ups
The Sunday Times No 1 Bestseller 2020
---
---
---
The new classic from the queen of contemporary fiction
A brand-new book from the Number One bestselling author of The Break and The Woman Who Stole My Life
They're a glamorous family, the Caseys.
Johnny Casey, his two brothers Ed and Liam, their beautiful, talented wives and all their kids spend a lot of time together - birthday parties, anniversary celebrations, weekends away. And they're a happy family. Johnny's wife, Jessie - who has the most money - insists on it.
Under the surface, though, conditions are murkier. While some people clash, other people like each other far too much . . .
Everything stays under control until Ed's wife Cara, gets concussion and can't keep her thoughts to herself. One careless remark at Johnny's birthday party, with the entire family present, starts Cara spilling out all their secrets.
In the subsequent unravelling, every one of the adults finds themselves wondering if it's time - finally - to grow up?
Published:

6 February 2020

ISBN:

9780718179748

Imprint:

Michael Joseph

Format:

Hardback

Pages:

656

RRP:

$55.00
Article
2020 summer picks from the Penguin NZ team!
Here at the NZ office of Penguin Random House we are huge readers – it is definitely one of the perks of the job that we get access to so many books! Luckily across the team we have a wide range of interests so, for example, if we want to know what all the fuss is about with a big debut international crime novel, our crime fiction enthusiast Becky can read it and share her thoughts on whether it will work for NZ readers, our Naomi can spot the next big thing in young adult fiction, and so on… here we present you with a few of what we've truly loved over the summer.
Article
Spotify playlists for your reading adventures
We've all been there. . . reading the perfect book, completely invested in a fictional world, only to be disturbed by a neighbour mowing their lawns or the distant sound of dogs barking. Suddenly you're pulled back to reality wondering what on earth happened.