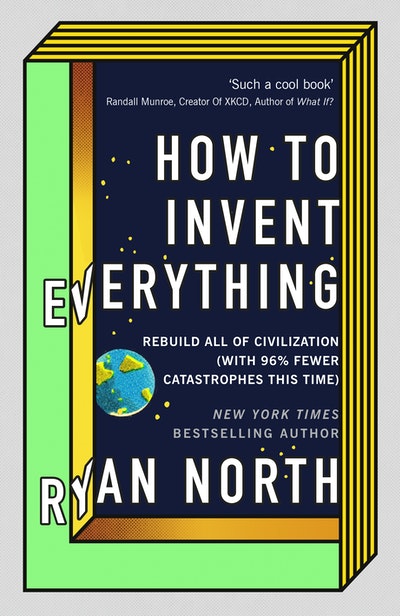 Published:

1 October 2018

ISBN:

9780753552568

Imprint:

Virgin Books

Format:

Hardback

Pages:

464

RRP:

$45.00
How to Invent Everything
Rebuild All of Civilization (with 96% fewer catastrophes this time)
---
---
A geeks' manual for improving human history, for fans of What If? and The Worst Case Scenario Handbook.

***One of BBC Focus magazine's top books of 2018***
Get ready to make history better... on the second try.
Imagine you are stranded in the past (your time machine has broken) and the only way home is to rebuild civilization yourself. But you need to do it better and faster this time round. In this one amazing book, you will learn How to Invent Everything.
Ryan North -- bestselling author, programmer and comic book legend -- provides all the science, engineering, mathematics, art, music, philosophy, facts and figures required for this challenge. Thanks to his detailed blueprint, humanity will mature quickly and efficiently - instead of spending 200,000 years stumbling around in the dark without language, not realising that tying a rock to a string would mean we could navigate the entire world. Or thinking disease was caused by weird smells.
Fascinating and hilarious, How To Invent Everything is an epic, deeply researched history of the key technologies that made each stage of human history possible (from writing and farming to buttons and birth control) - and it's as entertaining as a great time-travel novel.
So if you've ever secretly wondered if you could do history better yourself, now is your chance to find out how.
Published:

1 October 2018

ISBN:

9780753552568

Imprint:

Virgin Books

Format:

Hardback

Pages:

464

RRP:

$45.00
Praise for How to Invent Everything
How to Invent Everything is such a cool book ... essential reading

Randall Munroe, xkcd creator and bestelling author of WHAT IF? and THING EXPLAINER
Ryan North is as funny as he is smart, and he is hilarious ... an almost essential primer on the story so far when it comes to science ... suitable for anyone with a sense of humour and some curiosity. Brilliant stuff

Starburst magazine
A dazzling piece of work that's also genuinely hilarious

Elan Mastai, author of ALL OUR WRONG TODAYS
An essential handbook for any hapless time-traveller

Prof Lewis Dartnell, author of THE KNOWLEDGE: How to Rebuild our World from Scratch
Technically, we are all time travelers and we are all trapped. So, even if you happen to be scanning this blurb in what you perceive to be a 'normal' timeline, I heartily recommend you read this book cover to cover.

Zach Weinersmith, creator of Saturday Morning Breakfast Cereal and author of SOONISH
A hilarious and practical guide

Atlas Obscura
Packed with cool, fun, and useful stuff... a friendly and thought-provoking reference, just the thing for the bright kid in the family, to say nothing of the neighbourhood time traveller

Kirkus Reviews
A brilliant conceit ... a slyly funny piece of popular science writing

Glen Weldon, NPR's Great Reads of 2018
North is incredibly funny, so you'll be entertained while inventing fundamental technology for your fellow, albeit less-developed, man ... Avoid the pitfalls of our ancestors with this handy guide

BookPage
whip-smart and hilarious . . . Combine that humour, intelligence and style with the history of human technology and you've got How to Invent Everything

Winnipeg Free Press