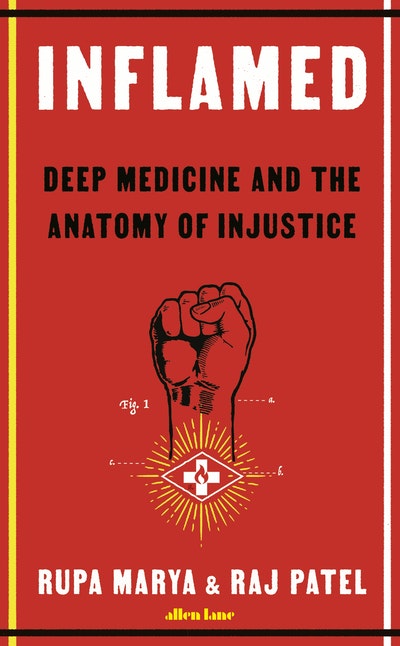 Published:

3 August 2021

ISBN:

9780241535264

Imprint:

Allen Lane

Format:

Trade Paperback

Pages:

288

RRP:

$40.00
Inflamed
Deep Medicine and the Anatomy of Injustice
---
---
---
A doctor and an economist explore the hidden links between health and structural injustices, and set out a radical vision for a fairer world.
What is the link between gut biodiversity, structural racism, and mental health?
How does colonialism continue to cause lethal disease around the world?
Why are First Nation people who speak their native language better protected against diabetes?
Inflamed journeys across the human body - through our digestive, endocrine, circulatory, respiratory, reproductive, immune, and nervous systems - illuminating the hidden relationships between our biological systems and the profound injustices of our political and economic systems. This boldly original book shows how inflammation is connected not just to the food that we eat and the air that we breathe, but is also linked to the traumatic events we experience, the stories we tell, and the arts of diagnosis that physicians practice - and fail to practice - every day.
Combining the latest scholarship on globalization and biology with the stories of patients in marginalized communities and the science of Indigenous groups, Inflamed points the way toward a deep medicine that has the potential to heal not only our bodies but the world.
Published:

3 August 2021

ISBN:

9780241535264

Imprint:

Allen Lane

Format:

Trade Paperback

Pages:

288

RRP:

$40.00
A work of exhilarating scope and relevance to this infected moment in the body politic. Inflamed mixes medicine, argument, and metaphor into a post-pandemic poultice: reading it is the first step in the deep medicine it prescribes. What a rare and powerful experience to feel a book in your very body.

Naomi Klein, author of On Fire
A critique of the wreckage of capitalism and colonialism for our time--beautifully written, storytelling at its best. This book can change your life.

Roxanne Dunbar-Ortiz, author of An Indigenous Peoples' History of the United States
Science and medicine are often treated as fields that are subtracted from social movements, separate from the struggle for power that billions of human beings are embroiled in and abstracted from the material conditions around us. Luckily for us, Rupa Marya and Raj Patel are out here making these connections and encouraging us to see these as processes we all must take ownership of as we fight to have control of our surroundings. This book is on fire.

Boots Riley, frontperson for The Coup and Writer/Director of Sorry to Bother You
At last! A book about medicine and healthcare that is holistic in the broadest sense in that it integrates histories of colonialism, conflict and inequality with alternative forms of knowledge. And all that while remaining compellingly readable and engaging.

Amitav Ghosh, author of Jungle Nama and Gun Island
A compelling book on the social and environmental roots of our poor health... the writers combine their respective expertise to analyse the workings of these cells and organs, and to interrogate how they have been disrupted by our modern constructs of capitalism, colonialism, extractivism and individualism, amongst others

Rachel Andrews, Irish Times
Inflamed takes the reader on a journey deep inside the human body . . . In doing so, it reveals how external inequalities affect these systems and cause serious harm

Layla Liverpool, New Scientist
Provocative and thought provoking. . . a reckoning with modern medicine . . . At each physiological juncture, the co-authors relate the malfunctions of human biology to the inadequacies of our political and economic systems

Andrew Zaleski
Urgent, impeccably researched . . . a subversive political analysis . . . remarkably lucid

Aarathi Prasad, Guardian
Compelling reading... It encourages both clinicians and members of the public to look at their health intrinsically linked to other people, their own community, the environment, as well as the politics and economics of their country, and more broadly, the world

Dipesh Gopal, BJGP Life
A remarkably powerful analysis . . . compelling detail . . . a revolutionary book that calls for courageous action to dismantle those structures that harm the health of people and the planet and to rebuild ones that centre care

Aletha Maybank, The Lancet