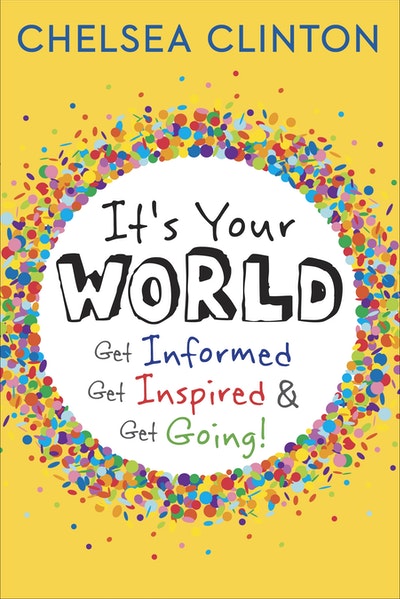 Published:

15 September 2015

ISBN:

9780141366524

Imprint:

Penguin

Format:

Trade Paperback

Pages:

416

RRP:

$34.00
It's Your World
Get Informed, Get Inspired & Get Going!
---
---
---
Filled with visuals including charts, graphs and photographs, this book has the potential to influence an entire generation's activism and involvement in local and global issues.

Get Informed!
What are the health issues I should be worried about?  Why doesn't everyone in the world have enough to eat or a place to call home?  What does climate change mean for my family?  How come so many animal species are endangered? 
Using facts, charts, photographs and stories, Chelsea Clinton tackles some of the biggest challenges facing our world today and talks about some of the solutions to give readers a deep understanding of the world around us – and how anyone can make a difference. 
Get Inspired!
Can kids really change the world?  Yes! 
With stories about children and teens who have made real changes, big and small – in their families, their communities and across the world – this book will inspire readers of all ages to do their part to make our world a better place. 
Get Going!
How can I help kids who can't go to school?  What should I do to help my family stay healthy?  How can I help girls have the same chances as boys?  How can I help stop pollution? 
In addition to informing and inspiring readers, this book encourages everyone to get going!  With lots of suggestions and ideas for action, Chelsea Clinton shows readers that the world belongs to every single one of us, and every one of us counts. 
You can make a difference.
You can make a change.
It's your world.
 

Published:

15 September 2015

ISBN:

9780141366524

Imprint:

Penguin

Format:

Trade Paperback

Pages:

416

RRP:

$34.00