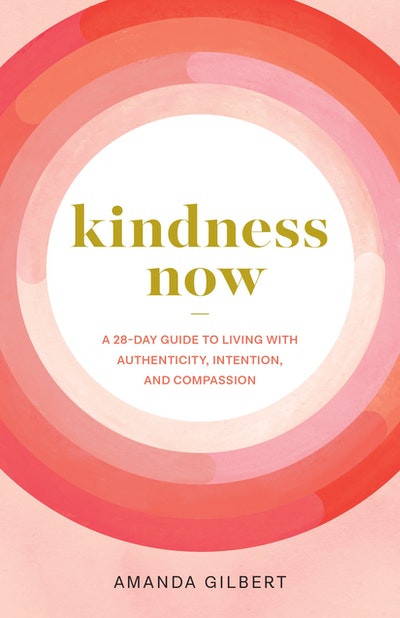 Published:

14 September 2021

ISBN:

9781611809015

Imprint:

Shambhala

Format:

Paperback

Pages:

288

RRP:

$37.00
Kindness Now
A 28-Day Guide to Living with Authenticity, Intention, and Compassion
---
---
Cultivate an open heart and deepen your kindness and compassion response with this accessible, 28-day program of meditation and mindfulness exercises for a new generation of meditators.
You've heard about all the ways meditation can help improve your overall health and wellbeing. You've probably even tried it once or twice and are thinking, "Now what?"
Maintaining a meditation practice can seem like a daunting task, but Kindness Now will introduce you to the basics of mindfulness meditation and guide you into a deeper practice intended to promote personal growth and connection to your authentic self. Meditation teacher Amanda Gilbert introduces the traditional Buddhist heart practices known as the brahma-viharas-- Loving-Kindness, Compassion, Appreciative Joy, and Equanimity--as the foundation for a successful meditation practice. Gilbert will instruct you on how to bring these heart practices into your life through her 28-day guided meditation program aimed at helping you become a kinder, more compassionate, and radically loving person. With each daily practice, you will learn how to be more resilient in the face of common stressors, including anxiety, feelings of depression, "imposter" syndrome, and social media comparison effects, and ultimately make meditation an essential part of your life and self-care practice.
Published:

14 September 2021

ISBN:

9781611809015

Imprint:

Shambhala

Format:

Paperback

Pages:

288

RRP:

$37.00
"Offering timely and clear guidance on the heart qualities of mindfulness meditation, Amanda Gilbert shares with us how the simple power of kindness has the capacity to create the world we want to see."—Deepak Chopra MD, author of Total Meditation "Amanda Gilbert reminds us in Kindness Now that we all live on kindness. In a world that feels topsy-turvy, this twenty-eight-day training to support the development of kindness feels like a perfect way to spend a month—in true investigation and celebration of the heart."—Sharon Salzberg, author of Lovingkindness "More than anything in the world, waking up our heart brings happiness, peace, and a more loving world. Let this wise and beautiful book guide you on this path of healing and freedom!"—Tara Brach, author of Radical Acceptance   "This beautiful, honest, and vulnerable book will teach you many things about kindness. Through practical exercises, meditations, and reflections, Amanda Gilbert gently offers readers a clear and doable path to follow towards greater authenticity and kindness."—Diana Winston, author of The Little Book of Being   "Amanda Gilbert offers clear, wise and kindhearted advice to anyone who wishes to develop more kindness in their own heart. She lovingly takes your hand and guides you every step of the way as you walk this twenty-eight-day inner journey. She reveals how by practicing these heart meditations and techniques, that anyone can learn to grow the beautiful heart of kindness."—Mark Coleman, author of Suffering to Peace   "Amanda Gilbert brilliantly brings modern context to essential teachings of the Buddha. Her time on the cushion and strong peace reverberate through this book and inspire readers on their own journey to develop the underestimated quality of kindness. Kindness Now is an invaluable tool for those in the midst of personal transformation and who are looking for practices to help them show up in the world more effectively."—Yung Pueblo, author of Inward