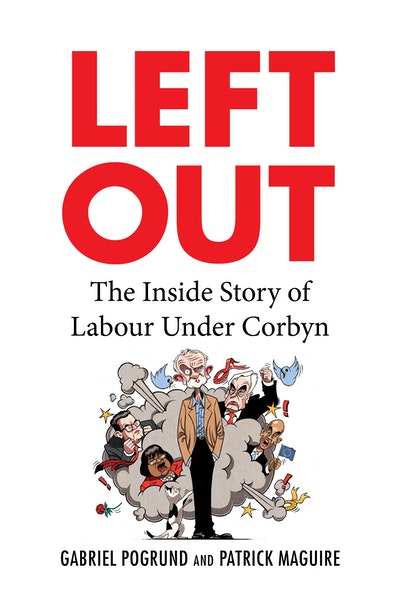 Published:

3 September 2020

ISBN:

9781847926456

Imprint:

Bodley Head

Format:

Hardback

Pages:

304

RRP:

$50.00
Left Out
The Inside Story of Labour Under Corbyn
---
---
A blistering narrative exposé of infighting, skulduggery and chaos in Corbyn's Labour party
A blistering narrative exposé of infighting, skulduggery and chaos in Corbyn's Labour partyLeft Out by Gabriel Pogrund and Patrick Maguire draws on exceptional access throughout the Labour party and Corbyn's inner circle to reveal in full and for the first time the extraordinary story of Labour's tumultuous transformation in the last three years.
A gripping narrative account of the party's journey from Corbyn's zenith, immediately after the general election of 2017, to its humbling at the election of 2019 and a new leadership contest, it reveals a party riven by infighting, factionalism and crisis. By turns shocking, farcical and tragic, it is essential reading for anyone who wishes to understand one of the most remarkable periods in the history of the British Left.
As well as an authoritative account of the war within Labour over its Brexit policy and whether to back the calling of a general election, it will shed dramatic new light on what was happening behind the scenes during the antisemitism scandal and the formation of the break-away Independent Group, as well as the plots, failed coups and secret negotiations that were taking place throughout the 2019 general election campaign itself. Ultimately, it helps explain Labour's collapse at the polls and reveals a party that has fundamentally shifted on its axis, with profound implications for its long-term future.
Published:

3 September 2020

ISBN:

9781847926456

Imprint:

Bodley Head

Format:

Hardback

Pages:

304

RRP:

$50.00