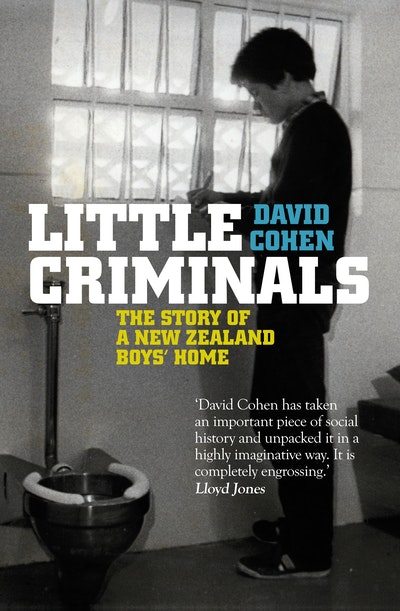 Published:

4 March 2011

ISBN:

9781869796938

Imprint:

RHNZ Adult ebooks

Format:

EBook

Pages:

288
Little Criminals
---
---
A unique and powerful look at a New Zealand experiment in social welfare gone wrong
A unique and powerful look at a New Zealand experiment in social welfare gone wrong.
From the late 1950s to the mid 1980s, when most of them were closed down, the New Zealand government maintained 26 residences for children and teenagers. Some of those children had the bad fortune to come from families with large numbers of children and who couldn't cope financially. Plucking a child out and putting him in a home to ease the burden was seen as a solution. Other children in came from profoundly dysfunctional backgrounds or were profoundly dysfunctional themselves. Could putting them all together in close quarters, supervised by staff with mostly inadequate training, ever deliver a positive outcome?
In this powerfully written book David Cohen, who himself spent time at Epuni Boy's Home in the 1970s, argues not. He tracks down former residents and staff members, many of whom argue that boys'-home stints led boys to, rather than away from, lives of crime. It also led some into abuse.
Evocatively and originally written, Cohen's research takes him back to the era of moral panic about juvenile delinquency that drove the creation of the homes and traces the sea change in ideas about the care of troubled adolescents, especially Maori, who were hugely over-represented in the muster, that spelled their eventual demise.
Totally gripping, it is a unique insider account of a failed experiment.
Published:

4 March 2011

ISBN:

9781869796938

Imprint:

RHNZ Adult ebooks

Format:

EBook

Pages:

288