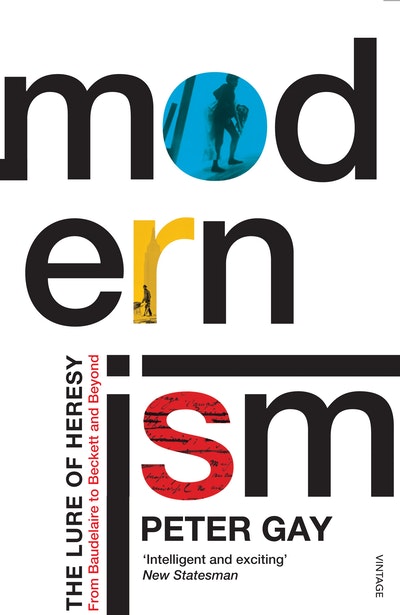 Published:

15 November 2008

ISBN:

9780099441960

Imprint:

Vintage

Format:

Paperback

Pages:

640

RRP:

$39.99
Modernism
The Lure of Heresy - From Baudelaire to Beckett and Beyond
---
---
A brilliant, provocative long essay on the rise and fall and surival of modernism, by the English-languages' greatest living cultural historian.
Acclaimed cultural historian Peter Gay traces and explores the rise of artistic Modernism, the cultural movement that heralded and shaped the modern world, dominating western high culture for over a century.
Peter Gay's most ambitious endeavour since Freud explores the shocking modernist rebellion that, beginning in the 1840s, transformed art, literature, music, and film with its assault on traditional forms. Beginning his epic study with Baudelaire, whose lurid poetry scandalised French stalwarts, Gay traces the revolutionary path of modernism from its Parisian origins to its emergence as the dominant cultural movement in world capitals such as Berlin and New York.
A work unique in its breadth and brilliance, Modernism presents a thrilling pageant of heretics that includes (among others) Oscar Wilde, Pablo Picasso, and D. W. Griffiths; James Joyce, Virginia Woolf, and T. S. Eliot; Walter Gropius, Arnold Schoenberg, and (of course!) Andy Warhol. Finally, Gay examines the hostility of totalitarian regimes to modernist freedom and the role of Pop Art in sounding the death knell of a movement that dominated Western culture for 120 years. Lavishly illustrated, Modernism is a superlative achievement by one of our greatest historians.
Published:

15 November 2008

ISBN:

9780099441960

Imprint:

Vintage

Format:

Paperback

Pages:

640

RRP:

$39.99
Beautifully written, wide-ranging and psychologically acute, Modernism: The Lure of Heresy is a celebration of the subversive energies that decisively transformed art and culture in the late nineteenth and twentieth centuries. At once bracingly intelligent and elegiac, Gay's magisterial book is richly rewarding for anyone who wants to understand the fractured world we have all inherited.

Stephen Greenblatt
Superbly researched and well recounted. The extent to which many [modernists] "sold out" to their wealthy patrons, adopting the values they once scorned, makes for some engrossing reading

Scotsman
Highly readable, well-illustrated... an intelligent and exciting account of creative individuals and the times in which they worked...an enormous achievement

New Statesman
Peter Gay has outdone himself. In his hands Modernism adds up to more than the sum of its subversive, sensational, unsettling parts. This is cultural history of the highest magnitude, a work as astute in its analyses as it is massive in its ambition. And as ever, it is written with stunning lucidity. A splendid, invigorating achievement.

Stacy Schiff
A wonderful book. You can be sure that students and journalists and teachers will be stealing from Modernism for years to come. Bravo!

Hilton Kramer
An exhaustive and lively summary

James Urquhart, Financial Times
Written...with a polymathematical verve which carried me with him to the end

Nicholas Bagnall, Sunday Telegraph
An absorbing account of how international artistic rebellion became mainstream and lucrative

Christopher Hirst, Independent