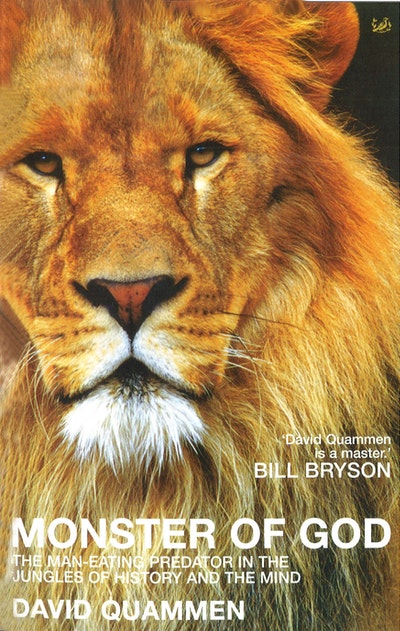 Published:

18 December 2012

ISBN:

9781845951962

Imprint:

Pimlico

Format:

Trade Paperback

Pages:

528
Monster Of God
The Man-Eating Predator in the Jungles of History and the Mind
---
---
A provocative and richly detailed exploration of the critical relationship between humans and the great predators of the animal kingdom by the award winning author of The Song of Dodo.
For millennia, nature's biggest and fiercest predators have tormented mankind. The knowledge and fear of the existence of these ferocious man-eaters is forever in the back of our minds, looming in our worst nightmares. Millions of humans have suffered attacks by predators on land and at sea. Yet animals have always shared the landscape with humans. Since the dawn of time our ecosystems have been linked and humans have co-existed with flesh-eating beasts as members of the same food chain. Now, of course, as humans spread and despoil the planet, these fearsome predators may only survive on the other side of glass barriers and chain-link fences. Their gradual disappearance is changing the nature of our own existence. We no longer occupy an intermediate position on the food chain; instead we survey it invulnerably from above - so far above that we are in danger of forgetting that we even belong to an ecosystem.
David Quammen's enthralling new book covers the four corners of the globe as he explores the fate of lions in India's Gir forest, saltwater crocodiles in Northern Australia, brown bears in the mountains of Romania, and Siberian tigers. Tracking these great and terrible beasts through the toughest terrain in the world, Quammen is equally intrigued by the traditional relationship between the great predators and the people who live among them, and weaves into his story the fears and myths that have haunted humankind for 3000 years.
Published:

18 December 2012

ISBN:

9781845951962

Imprint:

Pimlico

Format:

Trade Paperback

Pages:

528
Praise for Monster Of God
Erudite, witty, and utterly fascinating, David Quammen's exegesis of the life and habits of four parlous predators - creatures that can and do consume humans - sets a new standard in nature writing.Here we have biology, history, sociology, politics and behaviourism combined in as full and rich a portrait of these animals and their environment as had ever been produced

T. C. Boyle, author of THE ROAD TO WELLVILLE
David Quammen is a brilliant young star of nature writing
David Quammen is a master
David Quammen has given us a frontline report from the longest war in human history - the struggle against man-eating carnivores - and shows how much we have lost by winning it. Monster of God is an adventure to read - and a sobering reminder of our place in the natural world