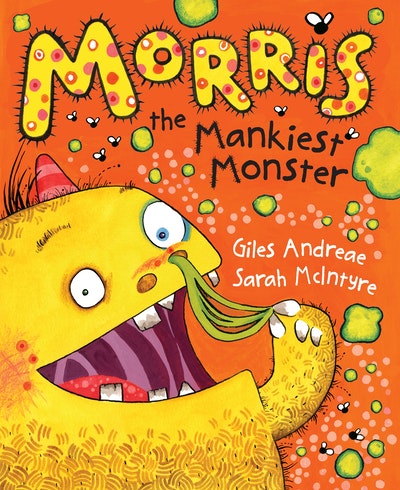 Published:

1 November 2010

ISBN:

9780552559355

Imprint:

Picture Corgi

Format:

Paperback

Pages:

32

RRP:

$19.99
Morris the Mankiest Monster
---
---
This book STINKS . . . Children will LOVE it!
It's years since he last changed his t-shirt
It's crusty and crawling with ants
His shoes are all slurpy and squelchy inside
And potatoes grow out of his pants
Morris is sweet, charming... and completely disgusting!
Kids will absolutely LOVE him.
Published:

1 November 2010

ISBN:

9780552559355

Imprint:

Picture Corgi

Format:

Paperback

Pages:

32

RRP:

$19.99
Praise for Morris the Mankiest Monster
more marvellous muckiness

Helen Brown, The Telegraph
Treading the tightrope between revolting and sweet is hard but Morris does it. What a gem!

HTh, Books for Keeps
...this is not a tale for the faint-hearted, but children who enjoyed the bottom humour of Giles Andreae's Pants will doubtless love it

Junior
DISGUSTING! I am still feeling faintly queasy after reading this book, but my class, of course, absolutely loved it!...The illustrations are wonderfully nauseous'

Child Education Plus
...must be the most revolting picture book of the year! . . . This book needs a warning to parents - they're going to have to read it over and over again - children will absolutely love it.

The Bookseller
...you can't look at that image without grinning inanely. That's Morris The Mankiest Monster...When even the cover and the press release can raise a smile it's a good sign that this will be a really good picture book for children (and grown ups as well!)

Fictions Blogspot
...the most revolting monster book I've ever read. Morris the Mankiest Monster has ear wax like hot cheese as well as pustules, boils and rotting toe nails. In short, he's adorable.

Tom-Watson.co.uk
...it's a book that plasters a huge smile across your face even before you've opened it up. Inside you've a beautifully drawn and written picture book that should delight younger readers; boys and girls alike will be enthralled by Morris' mucky and smelly world and will want you to read the rhyming text over and over and over again. Every page is full of little details, most of them as revolting as possible...Morris The Mankiest Monster - a worthy successor to Raymond Briggs' Fungus The Bogeyman, packed with fun, a great rhyming reader to be enjoyed again and again, beautifully drawn and guaranteed to have your young ones asking for more.

Forbidden Planet
This book claims to be the most revolting book of the year, and it's not wrong! This is a great new picture book written by the ever so talented Giles Andreae and illustrated by Sarah McIntyre. It has fantastic rhyming text, and Morris gets more and more gross as the story develops...this is an amazing book for reading it out-loud which will have you little ones in stitches. You will have to read this over and over again, so be prepared!

Library Mice
This is easily the most disgusting picture book I have ever read.

Fantasy Book Review
There is something about snot which intrigues at this age and Morris the Mankiest Monster provides plenty of toenails, pustules and other delights from a disgusting but friendly monster

Alison Walsh, Irish Independent on Sunday
It will have your kids squealing and giggling and going "ewwwww" and "euurggghhh" all the way through and I guarantee they will have you reading it over and over again ! The illustrations are brilliant too - brightly coloured and intricate enough for you to notice extra details every time you read it through. 5/5

Madhouse Family Reviews
Adults will be revolted and struggle to read to the end; children, I'm afraid, will just love it.

Nursery World
Children will absolutely love it - I will leave adults to make up their own minds...The illustrations are wonderful - full of grisly details that children will adore, and they will delight in reading the story to you. Great fun!

Parents In Touch
Any book that has an embossed green bogey on the cover has already got my vote. This frankly vile book is a complete and utter joy from beginning to end... a revoltingly good treat for young children.

Stacia Briggs, Norwich Telegraph
Sarah McIntyre certainly does not hold back with her illustrations of Giles Andreae's hilarious rhyming words...Sarah's illustrations are all beautifully drawn, with an incredible attention to detail that will have children poring lovingly over the pages... If there was ever a book that should come with a guarantee that it will be loved by children it is this one, and their parents will love it as well.

Book Zone For Boys
Comes across as an infant 'Fungus the Bogeyman' in the sort of humourous rhymes of text Giles Andreae does so well.

School Librarian
Kids will love the talk of dirt and dribble and fleas. Parents may squirm a bit. Billed as the most revolting children's book of the year, I'd have to say it is. Open it if you dare, but don't say you were not warned!

Rosie Scribble
Morris is disgusting - absolutely disgusting. I read this to a group of 5 year olds today and they absolutely loved it - they were hilarious 'eeuurrgghhing' and 'yukking' at his revolting-ness! Guaranteed to make any young child giggle - and childish adults too!

Hot Cross Mum
Distinctly gross monster who will appeal to children who seem to thrive on gross themes.. And yet I couldn't help but look and admire the pictures, Not for the faint hearted, or if you're eating/plan on eating food. 9/10

Nayu's Reading Corner
Distinctly gross monster who will appeal to children who seem to thrive on gross themes.. And yet I couldn't help but look and admire the pictures :) Not for the faint hearted, or if you're eating/plan on eating food.

Nayu's Reading Corner