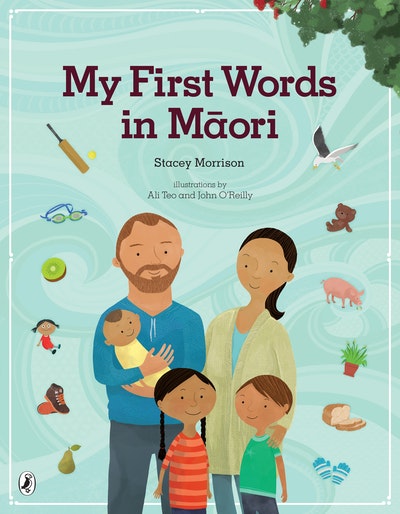 Published:

3 September 2019

ISBN:

9780143773337

Imprint:

Puffin

Format:

Paperback

Pages:

32

RRP:

$21.00
My First Words in Māori
---
---
If you'd like to speak the beautiful Māori language with your kids, this is the book to get you started!
Help your tamariki to kōrero Māori with this brilliant first words book by Stacey Morrison, gorgeously illustrated by Ali Teo and John O'Reilly.
My First Words in Māori equips your whānau with the first words you need to speak te reo at home together.
With lively pictures labelled in Māori and English, each page introduces the concepts and words children use as they first begin to talk, get to know people and explore the world around them.
Designed by Māori language champion and broadcaster Stacey Morrison for parents and tamariki to read together, with plenty of details in the illustrations to point out and name, scenes include: Tinana/Body, Whānau/Family, Whare/House, Wāhi Tākaro/Places to Play, Tātahi/The Beach, Marae/The Marae – and much more!
This is the perfect book to bring the Māori language into your home and have fun with the kids on their language journey.
Published:

3 September 2019

ISBN:

9780143773337

Imprint:

Puffin

Format:

Paperback

Pages:

32

RRP:

$21.00
Praise for My First Words in Māori
This pukapuka is piwari rawa but don't let that fool you into thinking it's only for the tamariki. Complete with everyday household kupu and phrases, this is a great way to expand your vocabulary as a whole whanau. Dust off the ol' Dymo or go nuts on Canva and design custom labels for everything in this book and keep your eyes out for the matching flash card set!

Nicole Hawkins, The Spinoff
The perfect first language book to teach te reo Maori

Maria Gill, Kids Books NZ
The book is user-friendly with both the Maori and English nouns beside each illustration. Another nice touch is that on each spread are common phrases to be used with tamariki, such as on the bedroom page are the phrases, 'Kei te tiwekaweka tenei ruma! This room is messy' and 'Me tuku i nga tautapu takaro ki hea? Where should the toys go?' as well as phrases that can use other kupu from the theme, such as on the emotions page the phrases are, 'Kei te pehea koe? How are you?' and 'Ka nui taku harikoa. I'm so happy.' Perfect resource for all early learning services, homes and all ages.

Swings and Roundabouts
Ka mau te wehi! (Awesome.)

Stacey Anyan, North and South
Beginning with heads, shoulders, knees and toes, this simple pictorial dictionary covers about every day-to-day scenario a Kiwi family might encounter, with conversational phrases a bonus. Ka pai!

Ann Packer, NZ Listener Best Children's Books 2019
Article
My First Words in Maori - downloadable map!
My First Words in Maori equips your whanau with the first words you need to speak te reo at home together. Download a map of Aoteraroa, and help your tamariki to korero Maori. 
Article